Classical
Classical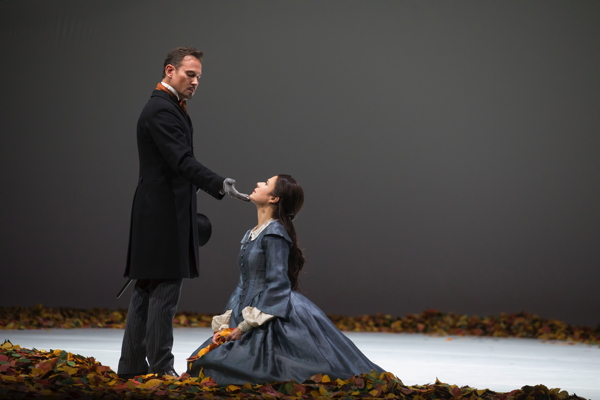 In Chicago, Lyric Opera presents a moving 'Eugene Onegin'
By
My wife Sherry once observed that the phrase "men behaving badly" could summarize the stories of most of opera's core repertory. Tchaikovsky's 1879 Eugene Onegin, a powerful production of which runs through March 20 at Lyric Opera of Chicago, would certainly be a classic example. 
The self-absorbed protagonist, to quote Wikipedia's pithy plot summary, "lives to regret his blasé rejection of a young woman's love and his careless incitement of a fatal duel with his best friend."  He could easily become tiresome, but the fact that Pushkin was able to make this callow fellow the basis for a beloved verse novel is a tribute to his genius.  The fact that Tchaikovsky and his librettist Konstantin Shilovsky turned that novel into a moving work for the stage is a tribute to theirs.
Lyric Opera's production originated with the Met in New York back in 1997. It has been revived often since then and even set down for posterity on DVD in 2007. Paula Suozzi is credited with directing the current production, based on Robert Carsen's original, and the results are impressive, to say the least. Blocking flows from and enhances the characters, pacing is always right, and the stage pictures created are visually striking. 
Michael Levine's minimal set contributes a great deal to the compelling look of this show. Using only furniture on a bare stage to indicate time and place, it forcefully underscores the emotional aridity of Onegin's world. Covering the stage with brightly colored autumn leaves for the opening scenes in the countryside, meanwhile, emphasizes the contrast of that world with Onegin's.
Those wonderful visuals wouldn't be worth much without a great cast, of course, and Lyric certainly has that. Polish baritone Mariusz Kwiecheń's Onegin is properly cool and even a bit arrogant at first as he rejects the amorous advances of the young and naïve Tatiana, which makes his emotional breakdown at the end of the opera that much more effective. His potent voice rings with true authority.
Tenor Charles Castronovo is his friend Lensky, whom Onegin kills in a duel after an absurd argument caused by an innocent bit of flirtation on the part of Onegin and Lensky's love Olga. His first act confession of love for Olga was heartfelt and beautifully sung, as was the famed second act monolog in which he contemplates his impending death in the duel. Both were enthusiastically received by the audience at the premiere, with shouts of "bravo" after the latter.
Perhaps the best-known number in the entire opera in the Act I "letter" scene in which Tatiana recklessly declares her infatuation with Onegin. Tchaikovsky is said to have very much identified with Tatiana's hopelessly thwarted passion (being gay in a sexually repressive culture will do that to a person) and has given the character some of the most dramatic and compelling music in the opera.
Soprano Ana María Martínez is Lyric's Tatiana and while she clearly looks much older than the character's nineteen years in Act I, she acted the role with complete conviction. When she dashed about the stage in giddy abandon after pouring out her heart in her letter to Onegin, she was so obviously the hormone-fueled adolescent that suspension of disbelief was automatic. She also used all the colors of her wide-ranging voice to brilliantly illuminate this crucial scene.
Russian mezzo Alisa Kolosova was equally credible as Tatnia's sister Olga, brimming with youthful optimism. Her cool, fluid voice was a perfect fit for the part.
Eugene Onegin opens with a bit of wistful comedy as Tatiana's mother Larina and the family nurse Filipyevna peel apples and reminisce about the former's days as a fashionable young girl, before marriage turned her into a member of the landed gentry in the country where "heaven sends us habit to take the place of happiness". Mezzos Katharine Goeldner and Jill Grove, respectively, were impeccable in those roles, hitting just the right balance of humor and nostalgia.
There are a couple of plum cameo parts in the opera as well, the most notable being that of Prince Gremin, the middle-aged general whom Tatiana, following in her mother's dutiful footsteps, eventually marries. Russian bass Dmitry Belosselskiy captured all the character's emotional warmth and calm, ethical center as he tells Onegin of his love for Tatiana in a touching and lyrical aria. At passionate length, he muses that she is a welcome change from the shallow, insincere, and morally questionable characters that he's obliged to deal with on a regular basis -- characters, in short, rather like Onegin. It was a truly memorable performance, sung with great authority and real power even in the lowest notes.
The other great cameo is foppish Triquet, whose little French language serenade to Olga at her name-day party offers a brief respite from the raging hormone- and vodka-fueled battle that leads to the fatal duel between Lensky and Onegin. Tenor Keith Jameson sang the role with just the right light lyricism and made the character just affected enough to be amusing without falling over into cheap comedy.
The chorus serves an important narrative function in Onegin, especially in the famous Act II waltz, so kudos to Chorus Mater Michael Black for getting such a clear and crisp sound from his thoroughly professional singers. Down in the pit Alejo Pérez, making his American debut, conducted a warm and very convincing account of Tchaikovsky's score.
When Tchaikovsky wrote what he described as "lyrical scenes" from the famous novel (he declined to label it an opera), it was with the understanding that his Russian audience would fill in all the narrative gaps and backstory between those scenes. Now, the place and culture that produced Eugene Onegin may be forever beyond our grasp, but Lyric's excellent production bridges the gap and brings the powerful emotions home.
Performances of Lyric Opera of Chicago's Eugene Onegin continue through March 20 at the Civic Opera House in the Chicago Loop.
Related Articles