Classical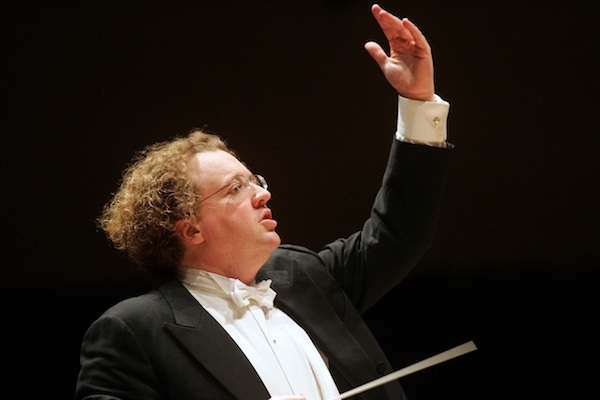 The St. Louis Symphony sails from the threshold of Romanticism to its climax
Stunningly beautiful folk-inspired melodies, almost child-like in their innocence and freshness, abound in Beethoven's Piano Concerto No. 1, dating from 1795. Beethoven's capricious playfulness tumbles forth like petals from a flower. By contrast, the Alpine Symphony of Richard Strauss, appearing in 1915, speaks of a powerful journey of both the body and spirit through the grandeur of nature. These are two very different works, yet both pay tribute to nature, creativity and human nature. Together, they made an awe-inspiring pairing for the St. Louis Symphony on March 10-11.
Considered a die-hard Romantic, and therefore sometimes disdained by modernists, Richard Strauss is enjoying renewed popularity today, benefitting from the hindsight of history. Strauss' reputation suffered as a result of his compromises with the Nazis; however, we are today more aware that he felt trapped in his homeland. More importantly, we now know he took tremendous risks in order to save the lives of his Jewish daughter-in-law, her family and his beloved grandchildren, all of whom lived in constant fear of the Nazi machine. Strauss was able to free his daughter-in-law from a concentration camp and helped keep his grandchildren safe, but he was unable to save their mother's family when they were imprisoned and executed. Perhaps it is no wonder that Strauss had himself in mind when he composed another of his great tone poems, A Hero's Life.
An Alpine Symphony is a vast composition, nearly 50 minutes long, divided into 22 sections, utilizing 112 musicians and incorporating Wagnerian tubas, a large sheet of metal to produce thunder, antiphonal brass from the rear of the auditorium, cow bells and other effects. The listener feels truly transported to another world, one of towering forests, chattering brooks, fragrant fields, magnificent vistas and spiritual awe. Strauss poured some of his most original thought into this overwhelming work. Only an orchestra of the highest caliber can do it justice.
French conductor Stéphane Denève, on loan from the Brussels Philharmonic, directed the performance this weekend. In spite of successfully commandeering such a formidable work as the "Alpine" Symphony, Deneve projected an air of humility and respect for the musicians he directed and the city that welcomed him. His comments to the audience concerning the instruments and the structure of the symphony were helpful in understanding the work, as were the captions projected above the stage. In spite of the magnitude of the work, the whispers from muted strings and solo instruments were never lost. Having done his homework, Deneve was clearly at home with both works on the program, and his expertise resulted in a sweeping performance that showcased the entire orchestra and individual soloists.
British pianist Steven Osborne joined forces with Deneve and the orchestra for the opening work on the program, Beethoven's Concerto No. 1 in C Major for piano. Osborne possesses formidable technique and, like Deneve, performed with confidence and precision. His approach to the concerto was rather staccato and well-punctuated. Some listeners might prefer a more subdued approach to such a lyrical work, but this concerto is worth considering from differing interpretations. Osborne captured the fresh and sparkling quality of this concerto, delivering a rather masculine interpretation that is a refreshing change from the much more timid and restrained approach favored by some pianists.
Today we are keenly aware of the differences between cultures. This concert, showcasing masterpieces by two composers born in the same country yet separated by 120 years of musical evolution, dramatically illustrated the power of the passage of time and history to transform culture. 
Related Articles