Classical
Classical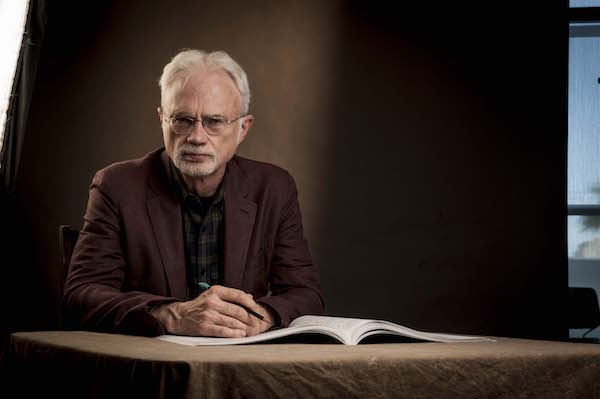 John Adams' 'Gospel According to the Other Mary' is a St. Louis Symphony showcase
By
It was a relatively sparse crowd that witnessed the local premiere of John Adams' 2012 oratorio/theatre piece The Gospel According to the Other Mary Friday night, April 24, by the St. Louis Symphony Orchestra and Chorus under the direction of David Robertson. I suppose that's not surprising, given how allergic local audiences can sometimes be to newer works, but it's a shame nevertheless. They missed a dramatic, inventive, and sometimes very powerful retelling of the Passion story that placed Jesus in a decidedly contemporary context.  
Commissioned by the Los Angeles Philharmonic and first performed by them in 2012, The Gospel According to the Other Mary is a time-bending account of Christ's death and resurrection from the viewpoints of Mary Magdalene and Mary of Bethany (the same singer plays both roles), as well as Mary of Bethany's sister Martha, and Martha's brother Lazarus, who are sometimes their Biblical selves and sometimes contemporary people. Mr. Adams and his collaborator, the noted British director Peter Sellars, have mixed texts from the King James Bible in with poems by African-American writer June Jordan and Mexico's Rosairo Castellanos, along with the work of (among others) Italian author Primo Levi, Native American novelist Louise Erdrich, and American Catholic activist Dorothy Day.  
There's even a strikingly graphic section inspired by a painting by Mexican artist Jose Clemente Orozco of Christ, Conan the Barbarian-style, brandishing the axe he as just used to chop down his own cross. Another potent sequence juxtaposes descriptions of Christ's arrest from the KJV with passages from Day's journals describing the arrest of protesters fighting for the rights of immigrant farm workers. 
It's not, as the composer himself wryly observed in the pre-concert talk, the sort of thing likely to appeal to the strict traditionalist.  
This could be a bit of a mess, and there are times when the archaic language of the Bible clashes oddly with the abstract imagery of the more contemporary poems. But for the most part the pairing of ancient and modern makes dramatic sense - in part because Adams' music acts as a strong unifying force.
I have not always been a major admirer of Mr. Adams' technique of building large structures from minimalist musical cells, but the approach works well here, creating a massive dramatic piece (over two and one-half hours, not counting intermission) derived largely from an ascending Aeolian mode chord sequence that first appears in the opening scene. It's an idea that informs the entire work, pulling sometimes wildly divergent ideas together into a (mostly) coherent whole.
Unification is provided as well by the almost constant presence of the cimbalom, a hammered dulcimer found throughout Eastern Europe and Greece—brilliantly played by Chester Englander. Cutting easily through Mr. Adams' massive post-Wagnerian orchestra, its metallic sound conjures up images of the ancient Mediterranean culture from which the story of Jesus sprang in the first place. 
In fact, some of the most compelling moments in The Gospel According to the Other Mary are musical rather than textual. A wild African drum solo performed with impressive vigor by Will James, for example, depicts the earthquake that precedes the rolling aside of the stone from Jesus' tomb. The suffering and death of Jesus at Golgotha is portrayed by a massive outburst of instrumental cacophony along with shouts and howls from the chorus. The Passover scene, on the other hand, is distinguished by a lovely aria for the resurrected Lazarus that wouldn't sound out of place on the Broadway stage.  
There were other very compelling moments, including the groaning low strings that accompany Lazarus's death and the recorded piping of frogs that presages the coming of spring and the resurrection of Christ, but the bottom line is that there is much to admire in this score. I have not always found Mr. Adams' writing for the stage to be persuasive, but this is often a very theatrically smart piece.
It helps that the work got such a peerless performance from the orchestra and Mr. Robertson, who has been an admirer of it since he made a special trip to Los Angeles to witness its premiere.  Mr. Adams has written some very challenging music for both the instrumentalists and singers; the precision with which they pulled it off deserves a round of laurel wreaths for everyone.
Mezzo Kelley O'Connor, for whom the role of Mary was created, was as compelling as you would expect her to be, forcefully conveying the character's passion and sorrow. Both she and fellow mezzo Michaela Martens, in the role of Martha, are often driven down to the bottom of their vocal range, but they projected even the lowest notes with authority, dishing up bravura performances.  
The last time I saw tenor Jay Hunter Morris on stage, he was the chillingly arrogant Danforth in The Crucible at Glimmerglass last summer. This time around he was touchingly vulnerable as Lazarus, pouring out his heart in the "Supper at Bethany" scene while Roger Kaza poured his into the fiercely demanding horn solo that accompanied him. Countertenors Daniel Brubeck, Brian Cummings, and Nathan Medley rounded out the ranks of soloists as a trio of unearthly narrators who also sing the words of Christ.
As for Amy Kaiser's chorus, I just can't praise them enough. Adams asks them to not just sing, but to whisper, chatter, and shriek. They did it all superbly.
For reasons that were not entirely clear to me, all the vocal soloists wore wireless microphones, even though they seemed perfectly capable of projecting over the orchestra. The sound mix was, in any case, handled with remarkable skill; the voices rarely had the unnatural, directionless quality that often accompanies amplification.
The SLSO will be taking this performance to Carnegie Hall on Friday, March 31st, and I really can't think of a better showcase for Mr. Robertson and our hometown band. The Gospel According to the Other Mary may not be without its issues as a work of music drama, but as a demonstration of the virtuosity of the St. Louis Symphony Orchestra and Chorus, I think it is (in the words of Walt Kelly's Fremount) "Jes' fine."
Next at Powell Hall: Pianist Kirill Gerstein plays Gershwin's Rhapsody in Blue and Concerto in F in a program that also includes Milhaud's La Création du Monde ballet and three dances episodes from Bernstein's ballet Fancy Free. David Robertson will conduct. Performances are Friday at 10:30 a.m. and 8 p.m., Saturday at 8 p.m., and Sunday at 3 p.m., April 7-9.
Related Articles