Classical
Classical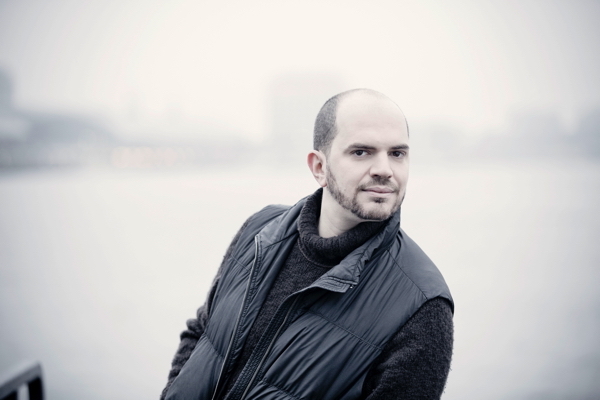 Pianist Kirill Gerstein and the St. Louis Symphony deliver a lively evening of jazz-influenced classics
By
There was a genuine sense of occasion at Powell Hall Friday night (April 7, 2017), and not just because conductor David Robertson and the members of the St. Louis Symphony Orchestra were uniformly spiffy than usual. It was partly due to the fact that the piano soloist was Kirill Gerstein, who has impressed audiences and critics here many tines in the past, but mostly due to the fact that this weekend's concerts were being recorded for an upcoming release on Myrios Classics. Happily, the microphones captured a totally captivating evening.
Things got off to a great start with a finely wrought performance of Darius Milhaud's 1923 ballet La création du monde (The Creation of the World), a work heavily influenced by the composer's exposure to American jazz during a New York trip earlier that year. The sounds of blues and jazz were especially attractive to French composers in the early years of the previous century, and Milhaud was no exception, scoring his short (ballet) for a nineteen-piece ensemble in which the alto sax and piano are prominently featured and in which even more conventional instruments like the oboe and clarinet are given jazzy solos.
As he often does, Mr. Robertson really allowed this music to breathe, imparting a strong sense of rubato to some slower passages while still retaining the piquant snap of more lively sections. The placement of some of the performers struck me as very smart as well, allowing Nathan Nabb's wailing sax and (especially) Peter Henderson's piano to come through more clearly than they sometimes do on recordings of the work. 
Solos by Diana Haskell on clarinet and Jelena Dirks on oboe were cleanly articulated and appropriately jazzy, the flutter-tongued passages by Andrea Kaplan and her fellow flautists were nicely eerie, and the brasses had real grit in their sound. Everyone in the ensemble as at the top of their game, in fact, making it a real pleasure to hear this rarely performed piece (the SLSO last did it back in 2001).
Up next was one of the two big attractions, at least for me: the original 1924 jazz band version of Gershwin's Rhapsody in Blue. Usually heard in Ferde Grofe's full-orchestra expansion of 1937, the Rhapsody didn't get back to its roots until Samuel Adler reconstructed and recorded the 1924 arrangement in 1971. 
The jazz band version has a kind of snap and flash that a full orchestra can't seem to match, especially when played as well as it was Friday night. As he did the last time the SLSO did this work in 2014, Scott Andrews gave the famous opening clarinet solo all the limpid grace it needs, nicely segueing into Tom Drake's "wah-wah" trumpet. The performances of saxophonists Nathan Nabb, Paul DeMarinis, and Jim Romain added considerably to the twenties ambience, as did that of Steve Schenkel on banjo, although his placement towards the back of the orchestra often made it hard to hear him.
As he did three years ago, Mr. Gerstein played the solo part with plenty of technical flash, combined with an impressive sensitivity to the improvisatory nature of this piece. He freely embellished the music more than once, but always in a twenties jazz style which I think Gershwin would have approved of. It was a reminder that the composer himself did some improvising when he played the work's Aeolian Hall premiere, since he hadn't yet completely written down the piano part.
The second half of the concert opened with another work that has been absent from the Powell Hall stage for a while. The Three Dance Variations from Leonard Bernstein's Fancy Free, the 1944 ballet about three sailors on leave in New York (which would later morph into the composer's first Broadway smash, On the Town) were last heard here in 1994. Like the rest of the ballet, these are brash, aggressive, and often comically eccentric pieces that got a bright and irresistibly joyous reading from Mr. Robertson and the orchestra. Anyone who came away from that performance without a smile was a world-class curmudgeon.
Closing the program was Gershwin's 1925 Concerto in F with Mr. Gerstein once again at the keyboard. The concerto isn't particularly complex from a purely structural point of view, but I still find it amazing to contemplate that it was written only a year after the far more rudimentary Rhapsody in Blue. Gershwin's development as a serious composer took place with an almost supernatural rapidity, as though he somehow knew that his life on this planet would be tragically short (he died of a brain tumor just a few months short of his 40th birthday). 
As it is, the concerto is a beautifully crafted piece: lean, powerful, without a spare note. Reviewing the December 3, 1925, premiere of the concerto for the New York World, critic Samuel Chotzinoff noted that Gershwin's "shortcomings are nothing in the face of the one thing he alone of all those writing the music of today possesses. He actually expresses us. He is the present, with all its audacity, impertinence, its feverish delight in its motion, its lapses into rhythmically exotic melancholy." You can feel and hear that "jazz age" urgency everywhere in the concerto.
Gershwin was a pretty formidable pianist, so the concerto bristles with technical challenges -- all of which Mr. Gerstein handled with ease. Here, as in the Rhapsody, he improvised here and there, but always in a way that felt right. Up on the podium, Mr. Robertson's direction crackled with energy and the orchestra played with its customary virtuosity. The second-movement solos by Mr. Drake, Ms. Dirks, and Ms. Kaplan all had real soul, the percussion work was crisp throughout, and the strings were solid as always. It was, to quote a George M. Cohan lyric, "Music to please the gang / With plenty of biff and bang."
It was a rousing performance, in short, and got an appropriately rousing standing ovation, followed by an encore from Mr. Gerstein: a set of variations by virtuoso pianist Earl Wild on Gershwin's "I Got Rhythm." Gershwin wrote a set of his own on that tune a few years before his death, but these were just as impressive in their own way. It was a perfect finale to a thoroughly delightful concert.
Next at Powell Hall: John Storgårds conducts the orchestra and pianist Nikolai Lugansky in Rachmaninoff's Piano Concerto No. 3, Béla Bartók's Concerto for Orchestra, and Valentin Silvestrov's Hymne 2001 for string ensemble. Performances are Friday at 10:30 a.m., Saturday at 8 p.m., and Sunday at 3 p.m., April 21-23. David Robertson conducts the orchestra in a Whitaker Foundation Music You Know Concert of popular classics on Friday, April 21, at 8 p.m. All performances take place at Powell Hall in Grand Center.
Related Articles