Classical
Classical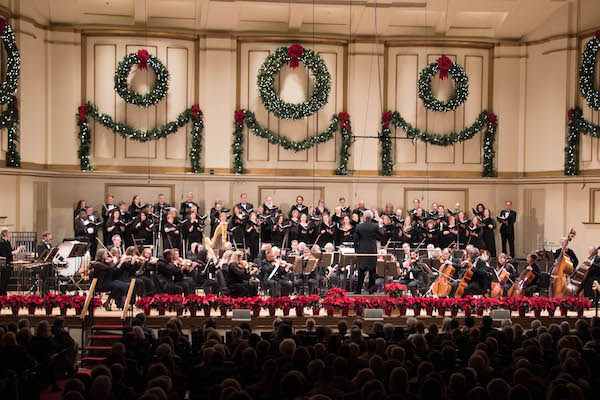 The Bach Society rings in the holidays
By
When the BBC surveyed Christmas concerts across North America for 2017, it was no small matter that the annual Christmas Candlelight Concert presented by the Bach Society of St. Louis made the list of the top 20 must-hear events. Nor was it a great surprise, though, considering the long and distinguished history of the Bach Society Chorus and Orchestra.
Under the energetic leadership of Music Director and Conductor A. Dennis Sparger, currently in the midst of his 32nd season, the Bach Society has consistently honed its artistry and has fostered the careers of budding artists and young performers. In a time when true music education is often given short shrift in our educational system, the Bach Society is one of several local institutions in the St. Louis area that has stepped in to perform the task that many (but not all) schools have failed to deliver. For that alone, our entire community should be grateful.
This year's Candlelight Concert highlighted selections from Handel's "Messiah" during the first half of the program, featuring soloists Scott Kennebeck, tenor; Sari Gruber, soprano; and Martha J. Hart, mezzo soprano. Kennebeck performed with bold stage presence, outstanding diction and control of dynamics at every level. Although I would like to have heard a bit more projection from Gruber and Hart, both performed with a florid range of motion and excellent intonation. All three soloists sparkled with energy and beautiful accuracy of execution.
Sparger's interpretation of the "Messiah" was rather reflective and at times restrained, yet tempos were brisk, and the performance exuded confidence and a declamatory telling of the Christmas story, precisely as Handel intended. Sparger's approach to the score also seemed to breathe new life into an oratorio that even unschooled listeners today continue to recognize as quickly as they might a Top 40 standard.
The second half of the program featured a diverse kaleidoscope of seasonal favorites as well as some contemporary newcomers destined for popularity. No one is ever too old or too jaded to fail to appreciate the beauty of the candlelight procession of traditional carols (and now employing battery-powered yet more dependable candles!) throughout Powell Hall. The effect of simple lighting effects on our perception of music can be more powerful than we realize. Particularly in the midst of a busy season, it is refreshing to close the eyes and drift into a sea of gorgeous sound encompassing an concert hall.
It would be an understatement to say there was something for everyone in this program. Morten Lauridsen's contemporary classic (oxymoron unintended), "O Magnum Mysterium" is a profound and ethereal work that has a way of oozing deep into the soul of the listener. But the work that followed, "A Babe Is Born," by William Mathis, exerted an equally notable, yet vastly different, impact derived from pounding and irregular rhythms. Traditional carols from various nations, such as the Spanish "Pat-a-Pan" and the French "Whence Is that Goodly Fragrance Flowing?" provided yet more dimensions of the musical prism of tone colors, rhythm, melody, harmony and style. There was also the opportunity for audience participation in the joyful communal singing of traditional carols.
The Bach Society was joined by the St. Louis Children's Choirs, performing three selections of their own and combining with the Society for the finale. In his remarks to the audience, Dennis Sparger noted the herculean contribution to music education in St. Louis made by Artistic Director Barbara Berner and Emily Pikaard, Director of Choristers. As we have come to expect, the Children's Choirs performed with smoothness and control way beyond their years. The young people's diction, phrasing and blend compared favorably to any chorus of adult singers.
One gentleman in the audience made the observation that it was sad to see so few boys participating in the Children's Choirs. I hope the leadership of the Choirs would take that observation to heart. The incredibly fine work of Benner and Pikaard deserves to be experienced by as many young people as possible. Contrary to what some might think, boys and young men DO like to sing. One has only to look upon the proliferation of men's choruses in St. Louis and throughout the country to ascertain this. Additionally, many primary and secondary schools and churches have achieved considerable success in recruiting boys and young men, which was pointed out by the man who made the observation. It IS possible, but it takes work--seeking out accomplished male singers as role models, teachers, vocal coaches and clinicians; making special efforts to target and attract boys, whatever shape that might assume--but the results will produce results across the board for girls and boys equally. And the conductors cannot do the work alone; they need assistance from other musicians, administrators and families.
Bach Society Young Artists Madalyn Mentor, Emerald Barbour, Kurtis Heinrich and Christopher Stanfill--all of whom were trained locally--were featured in Composer in Residence Stephen Mager's arrangement of "Go Tell It on the Mountain." Not only did Mager do a stunning job of arranging a traditional hymn, but the four singers turned in a virtuosic and shimmering performance. With artists such as these on the way, the future of music is certain.
Assistant Conductor Stephen Eros also conducted on the second half. Another homegrown talent, Eros continues to unfold as a skilled conductor and contributor to the entire music scene in St. Louis. One of his great strengths is his adaptability to a wide range of styles and media.
Faith in the future of music here and everywhere was also strengthened by witnessing the sold-out auditorium at Powell Hall. In this city alone, opera, musical theatre, dance, chamber music, jazz, gospel music, choral and symphonic music are all thriving. However, the lesson for all musicians is that audiences must never be forgotten. When audiences hear (and see) true artistry, originality and seriousness of purpose, support is not lacking.
Related Articles