Classical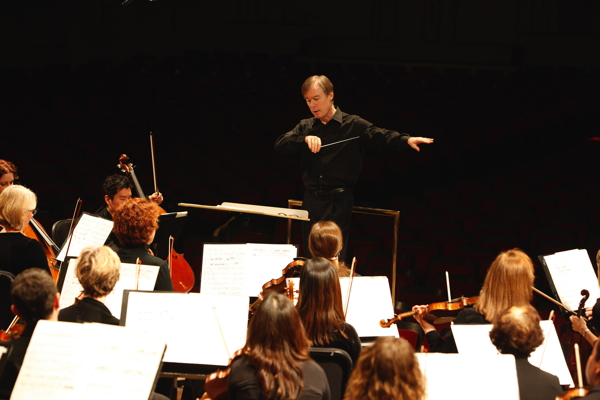 The Symphony ends its season with a spectacular performance of Holst's 'The Planets'
The St. Louis Symphony brought its regular season to a spectacular close this weekend (May 6-8, 2016) with Maestro David Robertson leading a simply excellent performance of Holst's The Planets, preceded by an equally impressive Vaughan Williams Flos campi (featuring Associate Principal Viola Kathleen Mattis) and a powerfully neurasthenic Berg Altenberg Lieder with soprano Christine Brewer.
Holst was a relatively obscure composer teaching at the St. Paul's School for Girls in Hammersmith when his suite The Planets, composed between 1914 and 1916, had its first public performance under Adrian Boult and the London Philharmonic in 1918. The piece was an immediate success -- which was not, as it turned out, a welcome development for the rather shy and retiring composer. Indeed, like many composers who became known for a single piece, Holst eventually came to actively dislike his Greatest Hit, feeling that it overshadowed his other work.
He had a point. Holst's many choral arrangements, as well as his music for wind band, chamber orchestra, and symphony orchestra, are well worth hearing (his Fugal Overture and Japanese Suite are favorites of mine) so it's a shame that The Planets is pretty much the only thing that ever makes it on to concert programs. But it's so engaging that it's easy to understand the appeal.
Holst was a mystic and astrologer who cast horoscopes for himself and his friends, so his planets aren't so much astronomical bodies as they are aspects of the human psyche supposedly influenced by those bodies. Each one of the seven movements is a mini tone poem capturing, for example, mindless aggression ("Mars, the Bringer of War"), good-humored warmth ("Jupiter, the Bringer of Jollity"), comic pomposity ("Uranus, the Magician"), or even the rage against the dying of the light and ultimate serenity that come with aging ("Saturn, the Bringer of Old Age").
Those portraits are brilliant exercises in orchestration. Holst calls for a massive ensemble, including harps, celesta, organ, and rarely heard instruments like the bass oboe (its mournful sound used most tellingly in "Saturn", beautifully played by Phil Ross). When the full forces of the SLSO were deployed in playing that score -- as in the relentless 5/4 death march of "Mars", with its angry fanfares that go nowhere -- the sound was as overwhelming as it was precise.
But it was in the individual solos that you could hear the real strength of this band. That included Tim Myers on tenor tuba in "Mars," harpists Allegra Lilly and Megan Stout and keyboard player Peter Henderson on celesta in "Mercury," and Roger Kaza and the other horns in "Venus, the Bringer of Peace" -- which also featured Concertmaster David Halen, Principal Cello Danny Lee, and Mark Sparks's flute section. Karin Bliznik's trumpets were wonderfully clear in "Jupiter" and Andrew Cuneo's bassoons had great comic bite in "Uranus," a movement which seems to owe a little something to Dukas's Sorcerer's Apprentice. There were many others as well, but you get the idea -- we have a great bunch of musicians here.
Mr. Robertson conducted a beautifully shaped performance the brought out all the nuances of the score while still respecting the big, climactic moments. His "Mars" was hair raising, his "Venus" was sheer serenity, and the relentless tread of the passing years in "Saturn" was heartbreaking.
Most remarkable of all, though, was his treatment of the final movement, "Neptune, the Mystic." The score calls for a wordless women's chorus "to be placed in an adjoining room, the door of which is to be left open until the last bar of the piece, when it is to be slowly and silently closed." The final bar of the music, for voices alone, is "to be repeated until the sound is lost in the distance." Mr. Robertson's approach was to put the women of the SLSO chorus in the halls outside of the dress circle so that, at least from our seats in the orchestra parquet, their voices seemed to come from nowhere and everywhere. The final fade-out was so subtly done that it was almost impossible to be sure that the piece had really ended; surely those two chords were still being sung somewhere? Leonard Slatkin and Courtney Lewis did something similar when they conducted The Planets here in 2013, to equally magical effect.
The concerts opened with a far less familiar work by Holst's friend and fellow composer, Ralph Vaughan Williams. Written in 1925, Flos campi [Flower of the Field] is a remarkably beautiful piece written for the unusual combination of viola and mixed chorus along with the orchestra. Cast in six movements and played without pause, it's a series of reflections on texts from one of the most openly sensual bits of the Bible, the Song of Solomon. The texts for each movement are printed in the score and, for these performances, were projected on a screen above the orchestra.
By turns poetic, sensuous, pastoral, and even cinematic, it's quirky stuff. The writing is often very contrapuntal but at the same time completely transparent, so the effect is one of lyrical beauty -- all of which came through clearly in this performance. Kathleen Mattis delivered the solo viola part with real passion, including the arrhythmic, bitonal opening duet with Jelena Dirks's oboe. Mr. Robertson conducted with great sensitivity and the chorus sang their often complex part to perfection. You couldn't have asked for a more blissful opening number.
That made for a very effective contrast with the music that followed. Alban Berg's Fünf Orchesterlieder nach Ansichtskarten-Texten von Peter Altenberg [Five Orchestral Songs to Picture-Postcard Texts by Peter Altenberg], Op. 4 (aka the Altenberg Lieder) were written around the same time as The Planets, but are as far away from Holst's picturesque mysticism as it's possible to get. The five short songs (one is only a page long) use as their texts elliptical and eccentric poems of Peter Altenberg (real name: Richard Engländer), who sent them to friends on picture postcards -- hence the title of this work.
Berg set these elusively bleak poems to intense and unsettling music scored for a large orchestra -- around 100 players -- that is generally deployed in small groups, so the sound overall is one of chamber music-like delicacy. That means that individual performers and sections are often very exposed and that there's no room for anything less than very polished and sensitive playing -- which is exactly what we got on Friday night. For her part, soprano soloist Christine Brewer sang and acted Berg's songs with real conviction, combining her customary technical prowess with a real commitment to the text.
A final note: on Friday night, Mr. Robertson took a few moments at the top of the second half to say farewell to second violinist Deborah Bloom, who is retiring after 42 years with the orchestra. He praised both her musicianship and her dedication to the orchestra's community partnership program with local schools -- an essential aspect of the orchestra's mission, if we hope to keep the classics alive. I thought it was a gracious gesture, and a reminder of why Mr. Robertson has such a good relationship with the musicians.
The final presentation of this concert on Sunday, May 8 concluded the regular season, but the orchestra will be presenting a number of "special event" concerts in May and June. For more information, visit the orchestra website. [http://stlsymphony.org]
Related Articles