Community
Artscope: A Castle for Creativity
Artscope has called the historical building known as the South Gate Lodge in Tower Grove Park home since the organization's founding as The Saint Louis City Open Studio and Gallery (SCOSaG). This "tiny castle," as Executive Director Jennifer Bradford describes the Romanesque revival style lodge, was once home to the park's gatekeeper and his family. Artscope inherited the rich history of the lodge. "There is a real tradition and a real continuity here," said Bradford. As a place where kids can explore their imagination freely, the 15-year-old organization has been creating its own history as well. Bradford recalled the songs children sing year after year during the summer camps: "Every year the songs seem to change just a little bit. Each new class of kids adds their own thing." The songs may slowly evolve, but one part of the tradition that Artscope has built seems to remain constant: the names of the trees right outside of the Lodge.
For safety reasons, teachers set a physical boundary to limit kids when they are playing in the yard. "The kids have names for the trees and they know they are not supposed to go beyond certain trees," Bradford said. She then introduced Twin Trees, Arm Tree, Door Tree and Ms. Magnolia and explained how classes past had named them based on their distinct features.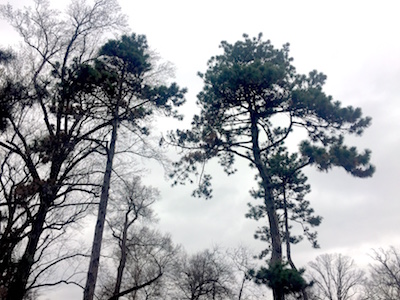 Twin Trees are two very tall and straight trees standing closely together and looking almost the same. Arm Tree has two main branches pointing two directions resembling two arms stretching out for a hug. The "doorknob" on the trunk of Door Tree looks like there is some hidden space in it.
Ms. Magnolia, on the other hand, is kind of special. She is shorter and not as thick, but she has many lower branches so kids can easily climb on her. A group of kids were convinced that she is hurt and they were worried. In order to help Ms. Magnolia, they founded a club and put up a hand-drawing sign titled "Protect Ms. Magnolia," which reads, "1. Don't pick anything off her tree; 2. Join our team; 3. Don't kick balls at her (tree)." 
Teachers sometimes take the kids to places further in the park away from the Lodge and their "territory." The Trees' Knees is usually where they end up.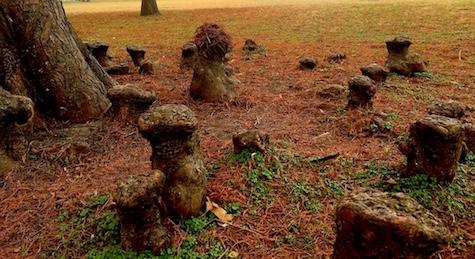 On the way from the cottage to the Trees' Knees, you will see kids stand in line and walk one by one across the Golden Bridge (better known as one of the many yellow speed bumps throughout the park), because if they are not careful, the "lava" on either side will burn them alive.
Physically located in the Tower Grove Park, Artscope takes the advantage of natural environment and advocates the "forest school" pedagogy. Artscope incorporated this idea by actively involving outdoors in the curriculum as a place where children can "unplug." "We feel like kids have enough time in front of computer screens or sitting at desks," Bradford explained. With the park as a backdrop, teachers try their best not to limit their students' minds. Unlike traditional art institutions, Artscope focuses less on specific art skills but more on "inner creativity." In Bradford's words, "The activities are based around a theme, instead of around a specific artistic discipline."  
Themes could be a common well-known fairy tale or an upcoming holiday on the calendar. Instead of teaching children how to play a flute or asking them to observe a bee, for example, the four-day Art of Noise camp -- which begins May 30 -- invites students to make their own instruments and figure out what to do with them, only providing guidance when necessary. In short, Artscope believes that the process is more important than the product. "Inner creativity is more about encouraging the child to follow a process wherever it leads them, and we feel like that will stand them in good stead in the future whatever path they pursue. We feel like encouraging children to follow that path of inner processing and inner problem solving. That creative path is what is important," Bradford explained. She also believes everybody has inner creativity, without a doubt. "I don't think that creativity has anything to do with being able to produce an art product. I think creativity has everything to do with how you approach the world around you." 
Artscope consists of two administrative staff and about ten teaching staff. More contribute as volunteers. Notably, most of the staff are professional working artists from a variety of artistic disciplines including painting, playwriting, sculpture, and fiber making. Bradford said she believes this is what makes Artscope stand out. 
Traditional summer programs, including Artscope's Create camps and School Daze, are based in the Lodge at Tower Grove Park. Artscope also tries to enlarge its serving population by providing art access to schools in the community. Schools partner with Artscope to bring in some of their teachers part-time. The cooperation with schools also includes extended care programs before and after school. Artscope also actively participates in community festivals and builds partnership programs with other social service organizations. "We really try as much as possible to make a creative practice available to all children in St. Louis," Bradford said. 
After all the efforts made, Bradford is thrilled to notice the progress the camp's individual students make. Artscope gathers feedback from the young participants before and after they attend a program and communicates constantly with their parents for feedback on creativity, team building, problem-solving and more. Bradford shared one moment she remembered clearly about Little W. She recalled that W. struggled a lot with his shyness when he first came in. One day, suffering from allergies, Bradford barely squeaked out a hello. What Little W. did was a pure delight. "My shy little guy, who a year ago would just sit on the couch and cry because he wanted his mom, ran over and gave me a big hug and patted my hand and said, 'You shouldn't try to talk. It sounds like it hurts, and maybe you should drink a lot of warm water also.' Then, to help her feel better, Little W. gave her a drawing he'd done of a superhero. Bradford still keeps the drawing close, taped up on a wall of her office.
Related Articles