Film Reviews
Film Reviews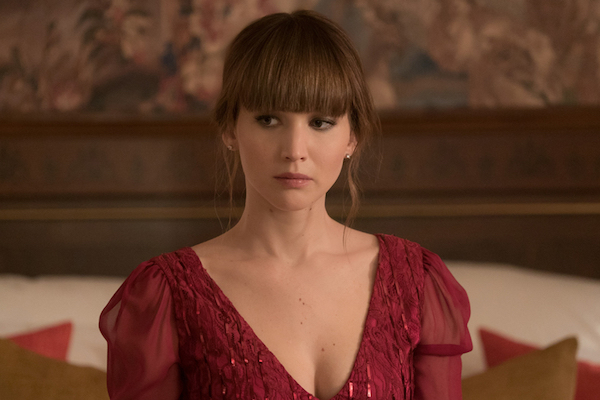 'Red Sparrow' spills blood all over Russia
By
Whoever had the blood concession for "Red Sparrow" earned enough in blood money to buy Band-Aids for life. Not that life will last long in the environment of this horribly violent, horribly sexualized exploitation version of Mad Magazine's "Spy v. Spy." "Red Sparrow" shocks without elucidating anything but Putin's manifesto.
Justin Haythe, known for "Revolutionary Road," penned the script from Jason Matthews's 2013 spy novel, not from Marvel Comics Black Widow franchise. Matthews was an operative with the Central Intelligence Agency, so his experience on the job painted his fiction. The title refers to the group of women who are trained as operatives of seduction.
Jennifer Lawrence stars as Dominika Egorova, a ballerina with the Bolshoi, who suffers an accident -- or was it? She cares for her beloved, invalid mother. Then the Bolshoi stops supporting Dominika. In walks her uncle Vanya, played steely by Matthias Schoenaerts from "The Danish Girl." Uncle enrolls niece in what she calls Whore School, where the matron is played in a type-cast role by Charlotte Rampling.
The game is not on, exactly, until Dominika is foisted on a CIA agent, who has spent considerable time softening up the enemy and hardening his body. Joel Edgerton, the Australian actor, shows his range from Richard Loving in "Loving," to this spy. He swims through the role as Lawrence stares through hers.
The cast includes Mary-Louise Parker, Ciaran Hinds, Joely Richardson, Bill Camp, and Jeremy Irons. But the film includes violent sex and sexualized violence with close-ups on garroting, shooting, knifing, and raping. Although the film honestly pairs full male frontal nudity to match the females', there's nothing pretty about "Red Sparrow" after the initial scenes at the Bolshoi.
Director Frances Lawrence of "The Hunger Games" fame shies away from nothing yet still ends up with a bloody film. "Red Sparrow" offers little in the way of intrigue but a lot to think about in the wretched Russian attitude toward life. 
Related Articles