Film Reviews
Film Reviews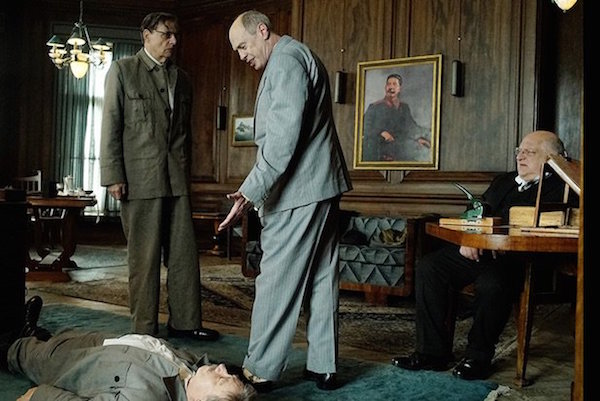 'The Death of Stalin' proves chaos not good
By
Anyone familiar with the work of Armando Iannucci has an inkling of the tack he takes with "The Death of Stalin." Even one episode of the rewarded TV series, "Veep," or one frame of the 2009 film, "In the Loop," presages what viewers will find in this an historic look at a post-mortem.
Iannucci is not known for being Mr. Nice Guy. Indeed, his curses are spiders, webbing their way across the screen to shock and amuse. He analyzes bureaucracies that drop to bended knee to ask for teasing and poking. Such is the case surrounding the titular event of Josef Stalin's end. 
This storyline starts with a concert of Mozart. The pianist (Olga Kurylenko) pens a note to Stalin. It is not a fan letter. He drops to the floor after reading her diatribe. And lies there. His minions and doctors kick the body around a bit, stepping around the pipi, before and after declaring it to be, in fact, a corpse. Iannucci is good about identifying all these little men, including Krushchev, played oddly by Steve Buscemi; Molotov, played by Michael Palin, Malenkov, played by Jeffrey Tambor as a nervous nelly; and Beria, played by Simon Russell Beale.
Iannucci is also good about dropping in cards with quotes from Russia's constitution regarding succession. Seven writers penned more than curses: the team also wrote lines like this sally to Krushchev's complaint about a bad back: "too much social climbing." As director, Iannucci mixes biting dialogue with social commentary with physical comedy, such as the traffic jam from the committee's exiting cars. 
"The Death of Stalin" does not purport to be history, so anyone going to learn about this moment in Russian history will be terribly confused. Anyone going to see satire about anarchy will be satisfied. There's no way to see this film without thinking of the reports out of the White House concerning process chaos and policy chaos, something that the current administration admittedly thrives on. Parallels between "The Death of Stalin" and the administration of Donald Trump sustain the film, but it truly stands on its own.
Related Articles