Film Reviews
Film Reviews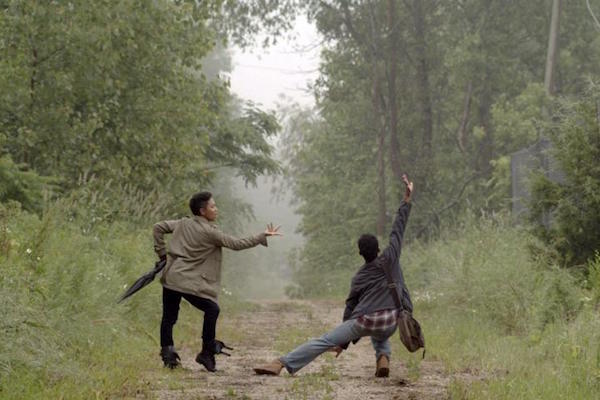 11th Annual Q-Fest provides great variety
By
The 11th Annual St. Louis Q-Fest screens Wednesday, April 4 through Sunday, April 8, with a stated mission "to spotlight the lives of LGBTQ people and to celebrate queer culture." Fourteen short films and ten features offer great variety through the twelve different programs. 
The Q-Fest kicks off Wednesday, April 4, with "Becks." Set in St. Louis, former St. Louisans Elizabeth Rohrbaugh and Daniel Powell's feature film debut unfolds slowly and predictably, but it respects all the daily struggles of the resilient central character Becks. After a brief stop in L.A., Becks moves back home with a disapproving mother. Becks hangs on--singing at a bar, teaching guitar. Her pleasing voice and solid songwriting add appeal. Lena Hall, Tony-winning and Grammy-nominated, gives an engaging performance as Becks; Christine Lahti as her mother is excellent; and Mena Suvari as Beck's love interest Elyse adds a relaxed, likable presence. It's a lot of fun to see St. Louis locations highlighted and to feel our local ambiance.
Wednesday's and Thursday's programs include short films with breadth and depth from sci-fi to experimental, humor to drama. "The Lady That Dances" finds transgender ballet dancer Sophie Rebecca giving a lovely, mesmerizing interpretation to Ash Palmisiano's poetry. In "Enfin Seule," Mel must cope with unexpected complications in her afterlife. 
Also part of the Wednesday Queer Shorts, Leah Byrd's "Hot and Bothered" set in and around Dayton, offers a playful riffing on race and all sorts of apps, from identifying where slacks were bought to employing a gay-to-straight calculating ratio. Two twenty-year-old ne'er-do-well guys hope to develop a Grindr for lesbians. Amateurish from acting to script to technical elements, "Hot & Bothered" strives to amuse but, more often, is just tedious. 
Q-Fest continues into the weekend with eight distinctive feature films: "Alaska Is a Drag," "Queercore: How to Punk a Revolution," "Between the Shades," "Saturday Church," "Snapshots," "The Lavender Scare," "The Revival: Women and the Word," and "After Louie."
The weekend begins with the beautifully shot feature "Alaska Is a Drag," after the short "Dragtivists." In its quick seven minutes, two drag activists (hence the title "Dragtivists") talk about their personas and their participation in protests such as Black Lives Matter. Immediately following that short film, "Alaska Is a Drag" finds multitalented Leo, with superstar potential, working in a largely unaccepting fish cannery. His boxing skills come in handy as he inhabits two worlds: drag and the Alaskan macho milieu. 
Saturday at 7:15, "Snapshots" captures three generations of women at critical junctures in their lives. A previously undeveloped roll of film plunges grandmother Rose (Piper Laurie) into her past while her daughter (Brooke Adams) copes with widowhood and her granddaughter (Emily Baldoni) faces a life-defining decision. Thoughtfully juxtaposing past and present mores, the film explores identity with affection and intelligence. As a bonus, director Melanie Mayron, writer/producer Jan Miller Corran and co-producer LeeAnne Matusek will attend and participate in a discussion after the screening. 
Sunday two documentaries provide superb informative overviews of gay history. "The Lavender Scare" details Cold War homophobia while "The Revival: Women and the Word" documents black lesbian artists and the community they nurture. Q-Fest concludes with a screening at 5:30 Sunday of director Vincent Gagliostro's "After Louie." An excellent Alan Cumming plays former ACT UP activist Sam, middle-aged, creating a video in honor of his friend William and others who have died of AIDS. Involved with the young Braeden (Zachary Booth), resentful of the younger generation's lack of appreciation, Sam vents his anger and bitterness. It becomes tiresome, even as it presents a periodically moving tribute to victims and survivors.
There's plenty to choose from at Q-Fest through Sunday, April 8. All screenings take place at the .Zack, 3224 Locust. For more information on the schedule, you may visit cinemastlouis.org/qfest.
Related Articles