Film Reviews
Film Reviews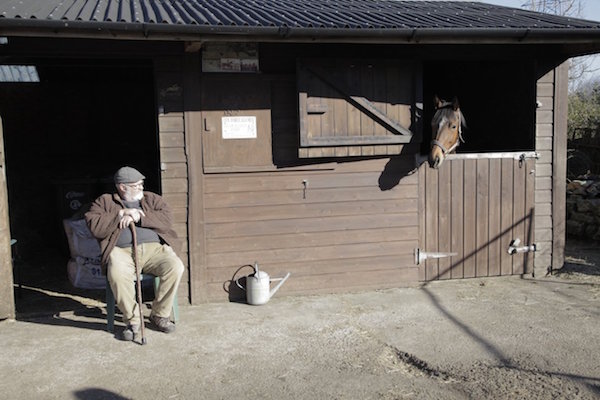 Louise Osmond's 'Dark Horse' documents the hopes and dreams of an unlikely syndicate
By
For her documentary Dark Horse, writer/director Louise Osmond faced a tough challenge: make a story about an underdog athlete and his working class owners feel fresh, original. In this case, it does help that the athlete is a Welsh-bred racehorse without an impressive pedigree, and the same holds true for 30 owners hailing from Cefn Fforest, a Welsh mining village.
Osmond found the way to energize this story. Let a handful of these unassuming, real women and men talk in their own words about a mind-boggling decision. Though knowing next to nothing, they set out to breed a racehorse. The instigator of this crazy idea is barmaid Jan Vokes who resolved, pretty much out of the blue, that's what she wanted to do. She and husband Brian, called "Daisy," couldn't come close to affording an entry into this expensive sport, but figured if 30 people contributed £10 a week, they could do it. And thus they formed the syndicate that backed the horse they all voted to name "Dream Alliance."
Along with archival video, photographs, and briefly reenacted events, the film relies primarily on contemporary interviews with Jan, Daisy, and other syndicate members, who are in their own right quite unique characters, along with one of Dream's trainers, Johnson White. Each provide a piece to the picture that emerges of an amazing horse whom we see in time lapse, via closed circuit cameras, being born. The film moves fairly quickly through Dream Alliance's many races (leading up to the 2009 Welsh Grand National) with insights and reactions from his backers. We come to understand that Dark Horse is more about these coal mine village residents than this amazing horse. They continue to surprise, especially Jan who, needing the money for Dream Alliance, gets a second job as a cleaner at discount grocery store Asda. Several other syndicate members are equally economically challenged but hang on to their fairy tale horse. For them, this isn't a business; it's a love affair.
The film builds slowly through its 85 minutes. Perhaps because I'm a horse owner myself, I wanted more information on the training and behind-the-scenes experience of their racing world. We get only a smattering of that while, as this exceptional story develops, totally unexpected problems arise. As a result, for its second half, the people on camera lay bare a profound, deep emotional investment that invites our own. Without my giving anything away, I can assert the film becomes deeply moving and inspirational by its stirring conclusion.
Dark Horse won the World Cinema Audience Award at the 2015 Sundance Film Fest and Best Documentary at the British Independent Film Awards. It's now showing at Landmark's Plaza Frontenac Theatre.
Related Articles