Film Reviews
Film Reviews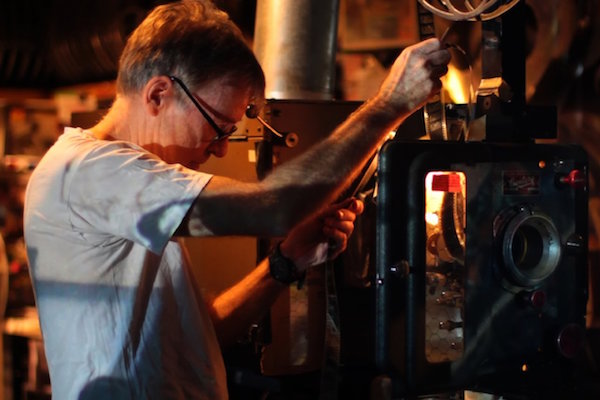 'The Dying of the Light' pays homage to photochemical film's passing
By
Director Peter Flynn's documentary The Dying of the Light begins appropriately in the decrepit projection booth of the Columbus Theatre in Providence, Rhode Island. Built in 1926, abandoned in 1979, it still houses the sturdy, Peerless 35-mm projectors that provided dazzling carbon arc light for thousands of movies. 
After a heartfelt, bittersweet, historical homage to film projection, Flynn returns in his concluding scenes to this "place of mystery and wonder" to test the durable quality of these iconic projectors, delivering another magical moment. It is immensely moving given the context, for in early titles on screen, Flynn announces that "within the last decade, the film industry has converted to digital projection," 14% of cinemas in 2008, 93% in 2013. Flynn adds, "The practice of handling and exhibiting photochemical film is now virtually gone." 
Through his 95-minute chronological summary of over a century of motion picture projection, Flynn provides insight into the projectionist's job with an explanation and demonstration of the 1890s magic lantern, various film gauges, and the serious fire danger with nitrate film, used until safety film replaced it in the 1950s. He explains projector design, the behind-the-scenes work of setting changeover cues, preparing film for projectors and platters, the transition to automated booths, the difference with hard drives, and the cost. This comes to life through archival photographs, snippets from films, and visits to once extravagant movie theaters, all of this informed by captivating interviews with veteran projectionists 
Compared to the wizard behind the curtain in "The Wizard of Oz," projectionists explain their apprenticeship and formative, sometimes surprising, experiences. For example, Herb Nipson, who worked at a 19 theater New Jersey Cineplex, verified he walked 28 miles in one day. Visits to Boston Light and Sound, Coolidge Corner, Harvard Square's Brattle, Bryant Park, Lansdowne, Fremont (Michigan), and the Sutton and Northfield Drive-ins make palpable the digital impact. The Dying of the Light reveals what we've lost, though in his closing commentary, veteran projectionist Walter Gonet expresses a positive attitude. 
The Dying of the Light screens as part of Webster University's Film Series at Winifred Moore auditorium from Friday, June 3 through Tuesday, June 7 at 8:00 p.m. each evening. 
Related Articles