Film Reviews
Film Reviews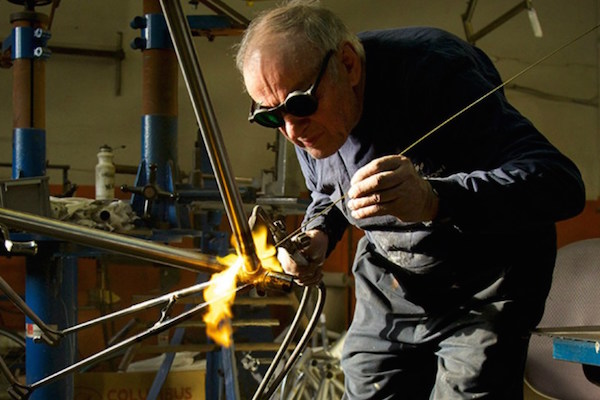 'Marinoni: The Fire in the Frame' showcases a remarkable cyclist
By
At the center of the most engaging character-driven documentaries must be a unique, remarkable individual, and Giuseppe Marinoni certainly qualifies. Director Tony Girardin's Marinoni: The Fire in the Frame captures Marinoni in all his passionate, cantankerous, and eccentric complexity. This 75-year-old Canadian set out to break the hour world record for cycling in his age group, a Herculean feat.
A former Italian cycling champion, Marinoni stayed in Montreal after a 1965 race brought him there, though he arrived with one pair of pants, a bike and two racing jerseys. Odd jobs eventually led Marinoni to find his profession--crafting and building bicycle frames, over 30,000 by count to date, masterpieces for which he enjoys cult status in the bicycle world. A bike he made in the 70s for one of Canada's best cyclists, Jocelyn Lovell, is the one Marinoni will use to attempt to surpass Eddie Merckx's 1972 record. Merckx said it was the hardest race he's ever done and would never try it again. Marinoni takes the formidable challenge.
For director/producer/editor and cinematographer Girardin, this documentary is clearly a labor of love, a film he's tried to convince Marinoni to let him make for years. Counting down from 60 days before the velodrome event, Girardin skillfully tells Giuseppi's life story through archival photographs, interviews with cyclists and admirers, mushroom hunting forays, and time watching Marinoni work, all the while building tension and suspense. The film is beautifully shot with unobtrusive music adding a complementary backdrop to quieter scenes, especially those once Giuseppe returns to his Italian home town for the time trial. The relationship that develops between Girardin and his subject recommends this cinematic experience by itself.  
With voiceover English narration, in French and a bit of Italian with English subtitles. Marinoni: The Fire in the Frame screens at Webster University's Winifred Moore auditorium Friday, July 8 through Sunday, July 10 at 8:00 p.m. each evening. For more information, call 314-968-7487 or visit the Webster Film Series website. 
Related Articles