Film Reviews
Film Reviews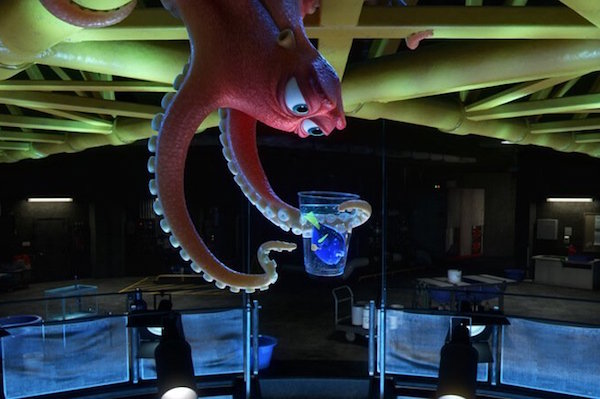 'Finding Dory' goes submarine for diversity
By Martha K. Baker
There's so much to love in this lesson from the deep. There's the grumpus octupus with seven arms, so, a septipus. There's a scaredy-cat beluga and a brace of Cockney sea lions. And then there's the temporarily orphaned Dory herself, a blue tang fish with memory issues, short-term. 
Dory swims in from 2003's Finding Nemo, Pixar's masterpiece. In that film about parenting, Nemo was often outflanked by the sidekick Dory, voiced so charmingly then as now by Ellen DeGeneres.
Finding Dory is set a year after Finding Nemo, but it flashes back to Dory's little fishhood, wherein her care-full parents (voiced by Diane Keaton and Eugene Levy) help her to accommodate her issues with memory. They remind her to remain calm, to think, to focus, to ask for help. Having swum off on her own, she's once again searching for them. Her friends, Martin (voiced by Albert Brooks) and Nemo (Hayden Rolence) are the sidekicks this time, but they do not pull the focus that Dory did in their film.
Coming closer to focus-pulling are the voices of Ty Burrell as the beluga, Idris Elba and Dominic West as the sea lions, and Kaitlin Olson as a near-sighted shark. Pulling most of all is Hank the octopus, voiced by Ed O'Neill; he's chameleon-like as well as funnily-drawn, especially when splatted against a glass surface, suckers first.
Finding Dory teaches lessons about marine life but also about disabilities, such as autism. Dory learned how to live with her disability, and she serves as an example to Nemo and Marlin: in one scene, they advise each other to "think like Dory." 
Finding Dory is delightful, perfect waterworks for the beginning of summer for children and adults. It's and a good sequel in the style of the Toy Story franchise. By the way, everything ends swimmingly.
Related Articles