Film Reviews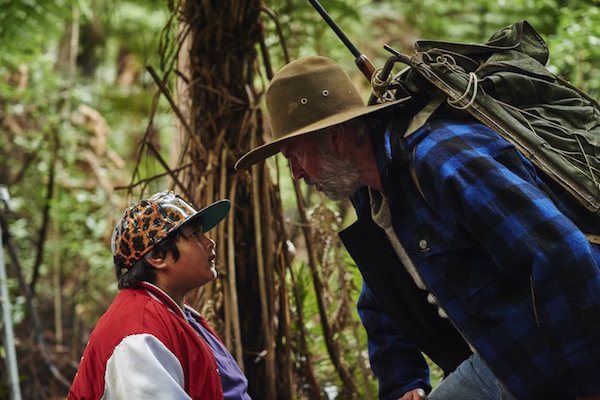 'The Hunt for the Wilderpeople' delivers adventure with humor and heart
Adapting popular New Zealand writer Barry Crump's book Wild Pork and Watercress, director Taika Waititi has crafted a superbly entertaining film with appealing humor plus pointed social commentary. Set and shot in gorgeous New Zealand bush country, The Hunt for the Wilderpeople follows 12-year-old Ricky Baker whom the social welfare system has repeatedly failed. 
As he joins his newest foster family in a long succession of them, the overweight, rebellious Ricky gets a warm welcome from Aunty Bella and the cold shoulder from Uncle Hec. That makes it particularly ripe for sparks to fly when Hec and Ricky become a pair fleeing with two dogs into the uncharted, remote wilds with welfare authorities and the police in hot pursuit. They'll encounter some obnoxious ruffians who join the hunt; the unhinged, supportive Psycho Sam; a sweet teenage Maori horsewoman; and more, through ten chapters announced on screen, plus an epilogue. 
Waititi, who in a brief scene plays the preacher, draws on an eclectic group of films, genres and music, merging them all seamlessly in his tour de force. In an interview at Sundance, Waititi says he intended this as an homage to '80s adventure films, with hilarious SWAT team parodies and nods to Thelma and Louise, Bonnie and Clyde, many Robert Redford films, plus some appealing fantasy. At the center of all this mayhem is Ricky, a unique individual who effortlessly spouts social welfare psychobabble as he recites his own haikus and talks with affection about hip-hop (especially Tupac) and Lord of the Rings. Waititi, who proved his talent for originality in his zombie mockumentary What We Do in the Shadows, says he doesn't push the comedy, a combination of physical and verbal elements that come in quick succession. With his deft touch, the humor emerges in surprising, clever juxtapositions. 
Waititi also has a knack for showcasing his actors. As Hec, Sam Neill delivers a perfectly understated resentment inflected with kindness, a foil and complement to the energetic Ricky played by an endearing Julian Dennison. Rime Te Wiata brings her animated presence and perfect timing to her scenes as Bella, while Rachel House adds a deliriously unfettered, monomaniacal performance as social welfare agency representative Paula.
Setting the New Zealand opening weekend, box office record, The Hunt for the Wilderpeople has won numerous film festival audience awards. No wonder. It's funny, sweet, sad, and exhilarating all at once. At Landmark's Tivoli Theatre.
Related Articles