Film Reviews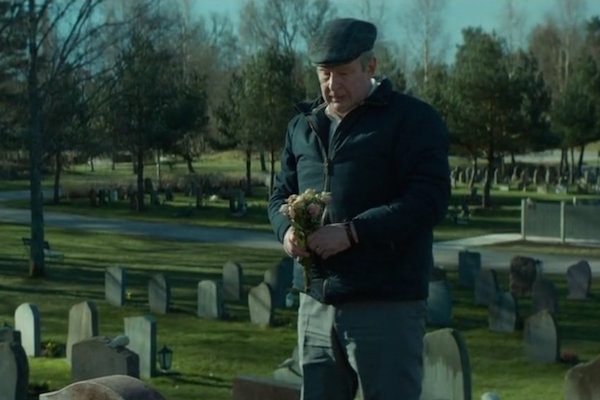 'A Man Called Ove'
At the center of the Swedish film A Man Called Ove is an unapologetic curmudgeon. He's gruff, uncooperative, even hostile. Moreover, at 59 years of age, forced into early retirement from his warehouse job of 43 years, Ove is not likely to change, nor does he for one second think he should.
Ove has decided it's time to exit this world to join his beloved, recently deceased wife Sonja, and so he plans his suicide, with interruptions from a new family moving into his housing complex, especially from the pregnant wife Parvaneh of Iranian descent. A bit reminiscent of Clint Eastwood's Walt Kowalski in "Gran Torino," Ove will predictably mellow but not before some amusing and sobering events unfold.
Faithfully adapted by director Hannes Holm from Fredrik Backman's hugely popular novel, A Man Called Ove stars Rolf Lassgård as Ove, a role he so perfectly embodies that, as was so often said about Spencer Tracy, it's impossible to see him acting. Director Holm wisely knows exactly where the interest and depths of emotion lie as he lets Ove physically and psychologically dominate the film, his personality driving the drama through every vertiginous twist and turn. We've probably all known someone like him, or, as the director Hannes Holm has written, perhaps, if we're honest, we recognize at least a bit of ourselves.
Unified in every element, all the location and art direction choices enhance the character study. For example, cinematographer Göran Hallberg shoots the film with an unobtrusive camera, that is, he avoids shots calling attention to themselves as opposed to serving the story. And what becomes clear as we come to know Ove is that we, certainly in his case, can't judge a book by its cover. As Ove's backstory unfolds, gradually revealed through nicely interspersed flashbacks, Ove becomes a much more complex and empathetic man than at first glance. In fact, we know this so often to be true as details of an individual's life explain behavior. Here we're greeted with a bracing series of revelations I won't reveal. 
A Man Called Ove is Sweden's submission for the Best Foreign Film Oscar and has already won Sweden's equivalent of our Academy Award for the film and for Rolf Lassgård as Best Actor, an honor he also won at Seattle's Film Festival. In Swedish with English subtitles, with an exclusive engagement at Landmark's Plaza Frontenac Theatre.
Related Articles