Film Reviews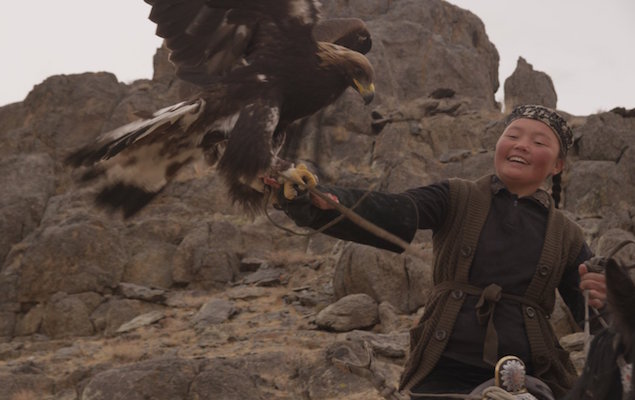 St. Louis International Film Festival continues its cinematic feast
The 25th Annual Whitaker St. Louis International Film Festival continues through Sunday, November 13 with films from 72 countries: live action and animated, feature and short subjects, fiction and nonfiction. A bonus of the Film Festival is that dozens of directors introduce and discuss their works, providing additional opportunities for insights into various offerings intelligently addressing critical, contemporary issues.
I'll highlight just a few of the terrific films I've had the opportunity to see. One of the most uplifting and gorgeous films is the documentary The Eagle Huntress. In remote Mongolia, 13-year old Aisholpan becomes the first woman ever to compete in the annual Kazakh Eagle Festival against 70 men. But what happens before and after that event in her family is one of the most absolutely engrossing presentations on film this year, much of it made possible by extraordinary drone camerawork.
Other excellent documentaries show during the week as well. Maya Angelou: And Still I Rise, My Life as a Film and The Liberators prove the strength of nonfiction subjects and these directors' expertise at presenting them. The subject Maya Angelou, this intelligent, insightful artist, speaks for itself. My Life as a Film pursues a provocative question. Does director Eva Vitja's guarded father, who obsessively films his family, use it as a tool for intimacy or as a way to keep his cool distance? Director Cassie Hay's The Liberators follows the search for the post-WWII Quedlinburg art treasures to Whitewright, Texas where Army Lieutenant Joe Meador took priceless art.
Mid-week also highlights several noteworthy foreign films, all of them in the language of origin with English subtitles. Venues include the Missouri History Museum, Landmark's Tivoli and Plaza Frontenac Cinemas, Webster University, St. Louis University, and Washington University, the Hi-Pointe Backlot, and the Stage at KDHX in Grand Center. For more complete information, including descriptions, trailers, show times, and ticket links for all the films, you may visit the website at: cinemastlouis.org.
Related Articles