Film Reviews
Film Reviews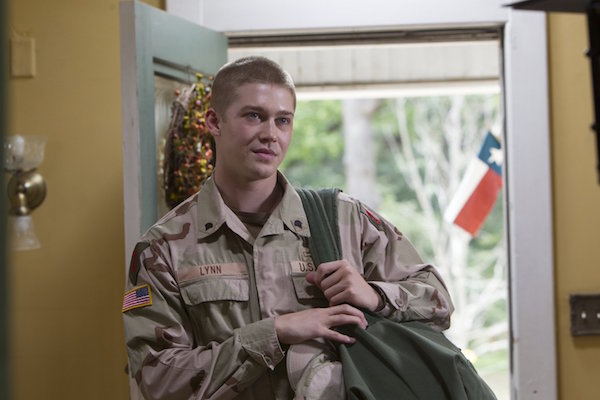 'Billy Lynn's Long Halftime Walk' turns two faces
By
Critically, Billy Lynn's Long Halftime Walk is one of those "on the one hand/on the other hand" movies: neither hand succeeds spectacularly, but each has some merit. On the one hand, Billy is so cliched as to be a photocopy, but, on the other, if a filmgoer has never seen such a movie, Billy merits consideration.
Billy Lynn, played convincingly by Joe Alwyn, is home from the Iraq war in 2004 to a hero's welcome, accompanied by his comrades in arms. These young men are invited by the owner of the Dallas football team, played seriously by Steve Martin, to be showcased in a half-time show. These young men, barely out of knee-pants, are inarticulate, dropping the F-bomb as often as they drop grenades. They scrum like puppies and swagger as they think men do. Billy himself went into the service to avoid jail. His sister, played convincingly by Kristen Stewart, encourages him to take a hero's way out and declare himself PTSD'd to avoid redeployment, but his sergeant, played by Garrett Hedlund, encourages him -- as a natural leader of men -- to stay a soldier. Through the football festivities, Billy holds himself aloft. After all, he is a hero for protecting the body of his beloved leader. Vin Diesel gives him a Zen calm as he says "I love you" to each of these boys going into battle.
There's not much tension in the plot of Billy's decision to stay or go, from a script by Jean-Christophe Cristelli and based on the novel by Ben Fountain. The script offers little, but on the other hand, Billy admits he tells people what they want to hear about Iraq. Nor is there much new in the film's use of flashbacks, often triggered by the fireworks at the stadium. Director Ang Lee spent more time on technology than on the feeble story, and it shows, but he does present a worthy cinematic summary.
Related Articles