Film Reviews
Film Reviews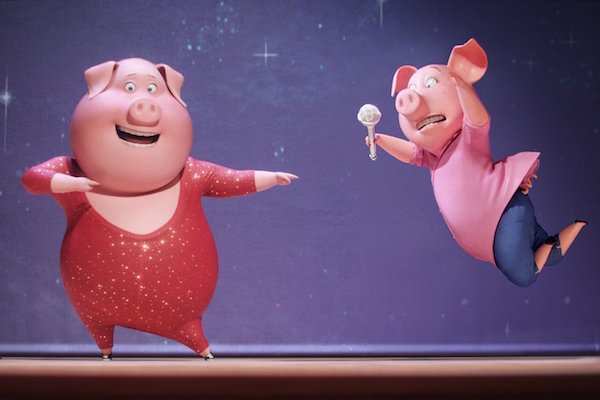 'Sing' features a host of singing, dancing animals in lively animation
By Diane Carson
With a script by Garth Jennings who co-directs along with Christophe Lourdelet, Sing features a host of animals singing and dancing their hearts out. A who's who of actors lend their voices to the brightly colored animation with a solid message: never give up on your dreams whatever the obstacles.  
The voices come courtesy of Matthew McConaughey, Reese Witherspoon, Seth McFarlane, Scarlett Johansson, John C. Reilly and that's just part of the outstanding voice cast, all of whom did their own singing. But it's the legions of animators who create this incredibly energetic, feel-good story, anchored by Buster Moon, a rascally koala bear who launches a singing contest in hopes of saving his father's once enviably grand Moon Theatre.   
After Buster concocts his desperate plan, his looney, lizard secretary's glass eye pops out and accidentally types $100,000 as the prize money instead of $1,000. Game on with hundreds auditioning and a select few chosen, an ark's worth of elephants, porcupines, mice, pigs, gorillas, and more. Within the humorously presented character sketches for each animal resides a serious problem which each confronts, and these mirror recognizable human attributes. The elephant Meena has paralyzing stage fright and then gets paired with Gunter who can't quit showing off. 
The pig Rosita, ignored by her lackadaisical husband while she cares for their 25 piglets, just longs to perform. Porcupine Ash wants recognition and support from her partner for her original songs. Gorilla Johnny longs to follow his muse to become a crooner instead of yielding to his brother's demands in his gang's criminal activities. Throughout tryouts and rehearsals, a spectrum of emotional issues is addressed as Buster scrambles to please Nana Noodleman. She could invest money that would bail Buster out of the literal and figurative collapse of his theatre.
To the beat of snippets from 65 songs and an array of dancing styles, the camera swoops and swivels and flies through sets. Sing is a lively, crowd pleaser suitable for children and the adults who will want to accompany them. At area cinemas, check listings.
Related Articles