Film Reviews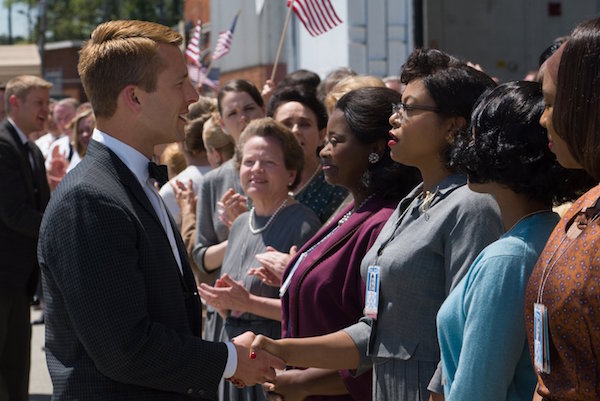 'Hidden Figures' celebrates African-American women's contributions to NASA
Katherine Goble (later married and known as Katherine Johnson), Dorothy Vaughan, Mary Jackson: these three, historically significant African-American women receive the recognition they richly deserve in director Theodore Melfi's Hidden Figures. This trio and a group of computer savvy black women supervised by Vaughan made critical contributions to the NASA early '60s space program. 
It's no exaggeration to assert that without them John Glenn may not have enjoyed the spectacular space orbit and successful reentry, for which Katherine Goble solved a thorny mathematical calculation.   
Physicists, space scientists, aerospace engineers, crackpot mathematicians--these women brought their superior intelligence and problem-solving expertise to America's NASA when it needed it most, as the U.S.S.R. launched Sputnik first in the US/Soviet space race. 
Hidden Figures places Goble's work within the context of civil rights protests and racism that extended to colored ladies' bathrooms and even to a separate coffee pot in her office. All three women dealt directly and calmly with reprehensible attitudes and behavior. The acting by Taraji P. Henson as Goble Johnson, Octavia Spencer as Vaughan, and Janelle Monáe as Jackson is superb. They segue from seething to serious, humorous to romantic with flawless precision. In addition, their interaction with each other as well as with superiors and co-workers hits exactly the right emotional register, feeling as natural as overheard conversations. 
As Goble's love interest and future husband, Mahershala Ali confirms his status as a first-rate leading man: relaxed and charismatic, as he is in "Moonlight." Kevin Costner as the fictional NASA mission manager, Jim Parsons as head engineer Paul Stafford, and Kirstin Dunst as Vaughan's supervisor Vivian Michael: all add important details, fleshing out the pervasive 1960s racism that Goble, Vaughan and Jackson defied in their brilliance. In addition to triumphant moments, Hidden Figures injects refreshing humor. With writer Allison Schroeder, co-writer Theodore Melfi mines the amusing without undermining the important. Hidden Figures" is crowd-pleasing entertainment of vital history. At area cinemas.
Related Articles