Film Reviews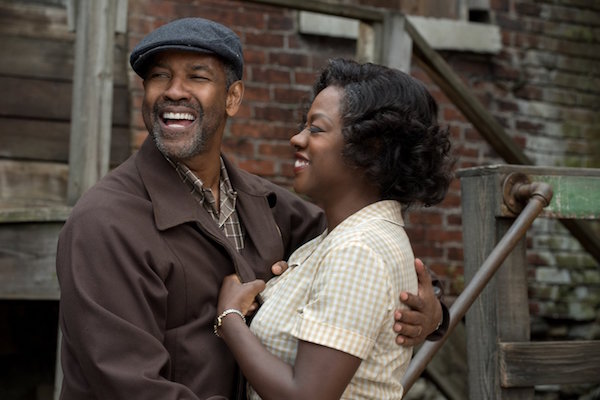 'Fences' features electric performances by Denzel Washington and Viola Davis
In 2010 at Broadway's Cort Theater, Denzel Washington and Viola Davis electrified the stage with their performances in Fences, August Wilson's 1987 Pulitzer Prize winning play. Now, in the film presentation with a screenplay by Wilson, directed by Denzel Washington, he and Davis deliver equally visceral, emotionally shattering depictions of Troy and Rose Maxson. 
Married 18 years to Rose, 53 year-old Troy works as a garbage collector who aspires to promotion to driver. He clashes bitterly with his older son Lyons, a musician, and younger son Cory, a talented high-school football player eager to meet a college recruiter. Himself a baseball player years ago in the Negro League, Troy rails against the racial prejudice that he feels kept him from the big leagues, racism still pervasive in 1950s Pittsburgh where he lives. Rose unquestionably loves and supports Troy who harbors a seething anger for his lot in life and, according to his sons, takes it out on them.
Troy's on-going project to build a fence in his backyard gives the play and film its title, Fences. Its symbolic significance is articulated by Troy's friend and coworker Bono who observes, "Some people build fences to keep people out, some people build fences to keep people in." Truth be told, Troy does both, revealing the depths of his Troy's desperate need for validation leads to the most painful confrontation in a scene impossible to forget.  
The weakness of Denzel's migration of the play to film is that it feels like exactly that. It isn't opened up or expanded, a comment on Troy's entrapment but conferring some claustrophobia into its circumscribed world. The energy, and it is considerable, derives from the vitality in Wilson's superb writing, burrowing deep into the demons that Troy battles, scapegoating others while fighting himself. 
In that regard, Denzel and Viola embody truly astonishing depictions of this couple, acting at the highest level of perfection even in slight reaction shots or minor movements, and as director Denzel captures these details. Also superb are Stephen Henderson as Bono, Russell Hornsby as Lyons, and Jovan Adepo as Cory. But Fences belongs to Denzel and Viola for their fiery interaction. Check area listings.
Related Articles