Film Reviews
Film Reviews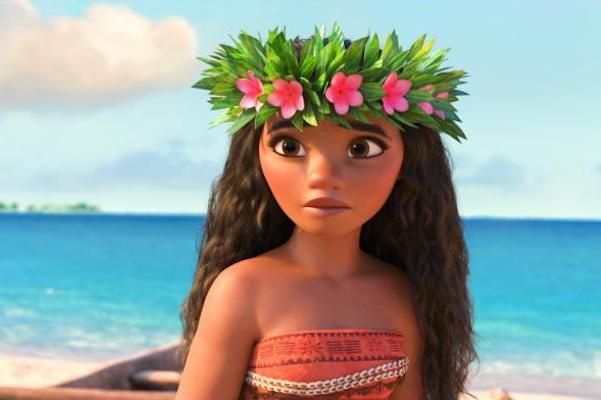 'Moana' uses beautiful computer animation to tell a Polynesian story  
By Diane Carson
Through beautifully rendered computer animation, Moana tells the upbeat, inspiring story of clever, brave heroine, Moana. She's the chosen one, the daughter of Polynesian chief Tui whose community lives on the Pacific Ocean island Motunui. No one dares venture beyond the reef due to past tragedies, but environmental pressures dictate the need for exploration, for overcoming tradition and fear. 
Undertaking the Herculean task, Moana, which means ocean, must find and battle the lava monster Te Kā to restore origin goddess Te Fiti's heart. Te Fiti created these islands but in the demigod Maui's battle with Te Kā, Maui lost his magical fish hook, capable of bestowing shape shifting powers on Maui, and he dropped the radiant green stone that is Te Fiti's heart. She must have it to reinstate harmony in nature. Never ignoring her fear, Moana conquers it and redoubles her efforts through great emotional resolve.  
Moana receives help from cockeyed rooster HeiHei, piglet Pua, and magical Maui. While he offers a lively counterpoint to Moana, he also reinforces stereotypes of the overweight Polynesian, a negative cliché that endures because of such unnecessary reinforcement. 
Despite that unfortunate representation, Ian Gooding's production design is first rate with gorgeous art direction and superb editing throughout Moana's quest, and a challenging one it is requiring stamina and intelligence to succeed. The action sequences on and under the waves are thrilling with the ocean a living, enthralling aspect of Moana's world. With the piglet and the chicken involved in the adventure, humorous events and sounds provide enjoyable punctuation, as is characteristic of Disney films. In a refreshing departure from the norm, Moana doesn't involve romantic elements, focusing instead on the daunting mission that will, not incidentally, benefit Moana's entire society. 
Implicitly supporting the idea of an Oscar for voice talent, Hawaiian native Auli'I Cravalho conveys Moana's diverse moods, and Dwayne Johnson does a terrific job as Maui. In fact, the entire sound mix is impressive, including original songs by Lin-Manuel Miranda and Opetaia Foa'i.  
Moana is appropriate for all ages, though very young children might be somewhat frightened in a couple scenes. Showing in 2D and 3D at area cinemas.
Related Articles