Film Reviews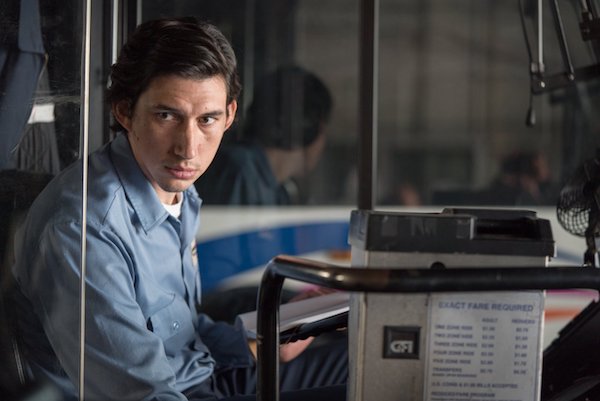 'Paterson' calmly and quietly chronicles a week in a bus driver's life
Writer/director Jim Jarmusch makes fascinating films that exist outside the norm. He's independent in his thinking and his cinematic productions as illustrated since 1980 in Down by Law, Dead Man, Ghost Dog: The Way of the Samurai, and Broken Flowers, among a dozen other striking works. But his offerings aren't always easy to accommodate, as he proves in Paterson. 
Throughout its two hours, the camera follows the title character who drives bus #23 in, yes, Paterson, New Jersey. Married, his loving wife Laura designs and decorates their home with circular black and white patterns, except, of course, her unique dinners, such as cheese and Brussel sprouts pie. She dreams of learning the guitar to sing country music. Laura and Paterson fit together nicely, as shots of them show, and they support each other. Laura praises the poems Paterson writes in his notebook before he begins his Monday through Friday bus route and during lunch breaks at the beautiful Great Falls on the Passaic River. 
Jarmusch knows and calmly asserts that unassuming working men are intelligent and educated. Paterson knows about Petrarch, Allen Ginsberg growing up in Paterson, and William Carlos Williams' modern epic poem Paterson. This emerges during quiet observance of Paterson's routine from Monday to the next Monday which constitutes the film, the days appearing on screen along with the text of poems written by Ron Padgett. Paterson wakes shortly after 6:00 a.m., has cereal, and walks to the Market Street Garage where Donnie sends him off each morning. Paterson eavesdrops on riders' conversations, has lunch, finishes his route, eats dinner at home, takes his bulldog Marvin for a walk during which Paterson stops at a bar for a beer, and goes to bed. As with most people, the repetition of his pattern constitutes his life and this film, with only a few minor events intruding.
As Paterson and perfect for the role, Adam Driver gives an impressively controlled, quiet performance. As Laura, Golshifteh Farahani adds energy but, as usual, the wife remains secondary and undeveloped. Far from the mainstream, very slow, Paterson the movie requires a meditative state for the viewer to appreciate the gem Jarmusch offers. At a Landmark Theatre.
Related Articles