Film Reviews
Film Reviews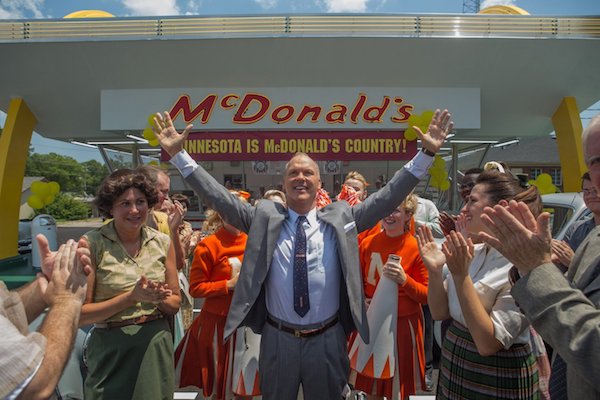 'The Founder' dusts the surface of business
By
In the fully competent hands of director John Lee Hancock, who also directed The Blind Side and Saving Mr. Banks, The Founder tells the story of Ray Kroc, the putative founder of McDonald's. The film is entertaining but not revelatory enough. There's little doubt an even more horrifying story lies beneath.
The film begins with Kroc's spiel. Kroc is a 52-year-old salesman with a history of failure (just ask his wife). Now, Kroc is selling a multi-teated mixer for shakes. He appeals to the potential buyer's ego as much as to his business strategy. He is rejected over and over. Then, his secretary reports an order for six of those mixers, so Kroc drives from St. Louis to San Bernardino to see who placed such a big order -- and why.
He finds the McDonald brothers, Dick and Mac, and he observes their operation. The brothers even show him the Speed-ee system they've devised. Kroc knows a good thing when he sees it. He's especially attracted by the bright yellow arches that Mac designed for the store in Phoenix, and he sees those arches as complements to the flags that fly and the crosses that mark cityscapes across America.
The Founder tightropes across a minefield. By casting Michael Keaton as Ray Kroc, the film replaces a conscience with a good face, making it harder to boo the man for his actions, from hanging up on his partners to actively lying about his dealings, which include referring to himself as the founder of the restaurant. Keaton works his magic as Kroc works his. Well cast as the brothers McDonald are Nick Offerman and John Carroll Lynch, solid and stolid men with common sense. Linda Cardellini and Laura Dern star as Kroc's serial wives. John Schwartzman's cinematography and Robert Frazen's editing add filmic interest to this juicy biopic.
Related Articles