Film Reviews
Film Reviews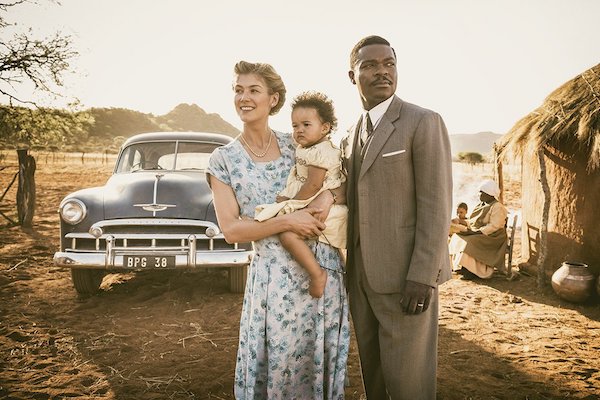 'A United Kingdom' makes the most of a titbit of history
By Martha K. Baker
A United Kingdom makes the most of a titbit of history. Aspects of this true story connect to all sorts of history well known, yet little of its history is known. This is a connect-the-dots history. The time is 1947.
The places are foggy London and dusty Africa in the country now known as Botswana. The crown prince, Seretse Khama, has been studying in London to be the next king of his country when he falls in love with a woman. He's very African black, and she's very British white. His family, headed by the uncle who raised him, does not want her; and her family does not want him. Nothing dissuades them, but a lot, including England and Winston Churchill, can stop them from assuming their crowns.
Much of A United Kingdom must include exposition about protectorates and regents, about mineral rights and abdication, about banishment and acceptance. Bits of information, which fill in where needed without stopping action but with encouraging further study, manifests the skill of scriptwriter Guy Hibbert (he also wrote Eye in the Sky). 
Maybe because of their Britishness, the lovers do not seem head over heels despite the montage given over to courtship. That the romance does not take over testifies to the skill of actors Rosamund Pike of Gone Girl as Ruth Williams and Daniel Oyelowo as Khama. He is especially effective in negotiating and delivering Khama's ultimata. Also populating the history lesson are Jack Davenport as a very officious British official; Jessica Oyelowo, Daniel's wife, as the official's wife; and Tom Felton, Draco in Harry Potter films, another tight official. Laura Carmichael, Lady Edith on Downton Abbey, plays Ruth's sister. Director Amma Asante, as skillful here as in Belle, keeps A United Kingdom moving slowly through the vicissitudes of history, connecting the many dots.
Related Articles