Film Reviews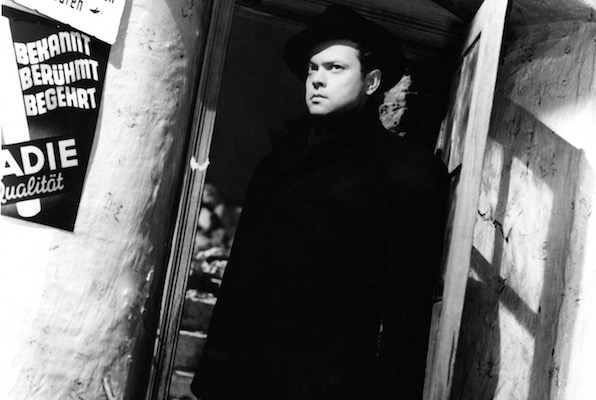 'Classics in the Loop' continues, honoring great filmmaking
The Classics in the Loop series at Landmark's Tivoli Theatre continues for the four Wednesdays in May. In order, they are: director Carol Reed's The Third Man for May 3, Orson Welles' Touch of Evil on May 10, Roman Polanski's Chinatown May 17, and concluding with Joel and Ethan Coen's Blood Simple May 24. All offer superb cinema.
May 3, from Great Britain, Carol Reed's 1950 The Third Man perfectly captures real post-WWII Vienna, where it was shot in black-and-white. Amidst the literal and metaphoric rubble, newly arrived pulp-fiction writer Holly Martins (Joseph Cotton) seeks former friend Harry Lime (Orson Welles). The Dutch angle shots telegraph that this is an off-kilter world in which black market drugs kill and the zither music plays. 
May 10, Orson Welles confirms his directing, writing and acting talent in Touch of Evil, 1958. From its legendary opening shot crossing from the Mexican to the U.S. side of the border in a long tracking shot along the street, concluding with a shocking explosion, this film twists and turns its way through mayhem and corruption. It boasts sterling performances by Janet Leigh, Charlton Heston, and Akim Tamiroff, in addition to Welles.  
The third Wednesday, May 17, another director/actor holds forth: Roman Polanski in Chinatown, starring Jack Nicholson, Faye Dunaway, and John Huston. Based on real events, in the film J.J. Gittes (Nicholson) investigates the corruption impacting water resources in L.A. and finds vile behavior extends from the political to the personal. 
Concluding the program the fourth Wednesday in May, the 24th, the Coen brothers' 1984 writing/directing debut, Blood Simple screens in a new 4K digital restoration. Starring John Getz, Frances McDormand, Dan Hedaya, and M. Emmet Walsh, a suspicious, jealous husband hires a private detective and plots the murder of his wife and her lover. Unanticipated, unusual developments will follow, heralding the arrival of the Coens' unique style and delightfully macabre humor.  
These four outstanding films grace the big screen one time only, each Wednesday at 7:00 p.m. at Landmark's Tivoli Theatre.
Related Articles