Film Reviews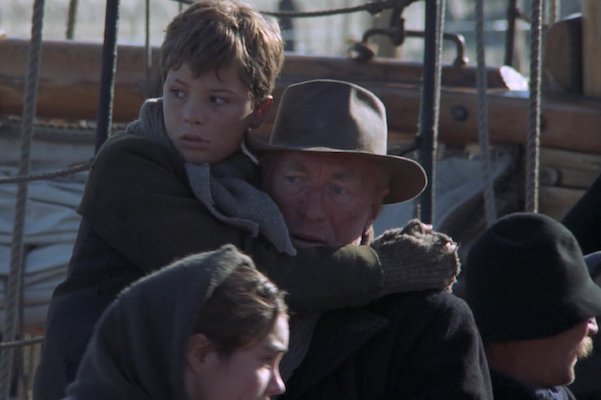 'Pelle the Conqueror' shows difficult rural life in late 19th Denmark 
At the end of the nineteenth century, widowed, illiterate, and destitute, Lasse Karlsson travels with his son Pelle (as it's pronounced in the film) from Sweden to Stengarden, Denmark. In a stratified Baltic island society with workers firmly on the bottom rung, life is difficult, and punctuated only infrequently with celebrations in the ironically titled Pelle the Conqueror (1987).
Based on Martin Andersen Nexo's novel, director and co-screenwriter Bille August uses his two and a half hours to let characters' exhausting, work-filled days that unfold through the seasons. As Lasse, Max von Sydow brings his supremely accomplished acting to the role. Lasse so wants to impress Pelle that it's heartbreaking to watch him cower before a despicable young boss who has humiliated Pelle. He describes himself as "poor and wretched, a plucked chicken in the dung." When Lasse does get Pelle a present, Lasse's joy is rapturous. Von Sydow is an open book of pain and desperation, resilience and love. His complex, inner world is revealed in his face and posture.
As the boy Pelle, Pelle Hvenegaard is wide eyed and wonderful. As our surrogate, he reacts to tragedy understandably, and sometimes bravely, as fellow schoolmates and supervising adults display some of the best and some of the worst of human nature, in just about equal measure. Tragedy strikes and some endure, but there is nothing easy about eking out a living or merely surviving.
Cinematographer Jörgen Persson composes with an artist's eye and a feel for the landscape -- the sea and the fields. Lasse's and Pelle's squalid living quarters, tattered clothes, and dirty appearance project their poverty. Seldom has a nineteenth century world felt so lived-in, grimy and grim while shots of waves and harvesting resemble gorgeous paintings come to life.
Pelle the Conqueror received the 1989 Oscar for Best Foreign Language Feature Film. In Danish and Swedish with English subtitles, Pelle the Conqueror screens at Webster University's Winifred Moore auditorium from Friday, April 28 through Sunday, April 30 at 7:30 each evening. 
Related Articles