Film Reviews
Film Reviews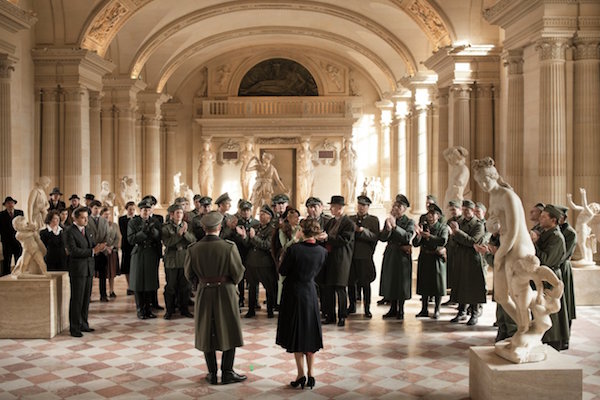 'Francofonia' contemplates Louvre art, especially under Nazi rule
By
I've been told that Russian writer/director Aleksandr Sokurov is an acquired taste. If that's true, I happily acquired it with his 2002 Russian Ark, a fascinating trip in one continuous tracking shot through the Hermitage Museum and Russian history. Now Francofonia showcases the Louvre, tracing its architecture, contemplating noteworthy paintings, and dramatizing World War II events.
Following a meandering stream of consciousness, the narrator, Sokourov himself (with this variant spelling), devotes most of his attention to the Louvre's Deputy Director Jacques Jaujard who in 1940 moved the museum's priceless art to safe havens. When Count Franz Wolff-Metternich arrived, he found mostly heavy sculptures and minor works, and courageously, perhaps surprisingly, he would protect these and other art as well. Sokurov dramatizes these events with actors and revisits this decisive episode at several points in Francofonia. In fact, the impact comes across most powerfully as the camera, often silently, moves through Louvre's corridors filled with empty frames on the walls and bare pedestals.
Actors portray other historical individuals as well -- including Napoléon Bonaparte and France's national symbol Marianne -- while significant authors Tolstoy and Chekhov appear in deathbed photographs that Sokurov addresses, along with a ship's captain fighting rough seas, his ship laden with now endangered, prized art. To this mélange, the narrator adds a thoughtful, philosophical interrogation of art's importance through the ages, beginning with photos of the museum's construction. Archival film presents Hitler and Paris in WWII, often shown with almost eerily empty streets.
Cinematographer Bruno Delbonnel uses sepia tone, black and white, and dimly lit footage. It appears at time with sprocket holes or the sound stripe showing on the left hand side of the frame. Francofonia is unusual, sometimes challenging, and always intriguing. In French, Russian and German with English subtitles. At a Landmark Theatre.
Related Articles