Film Reviews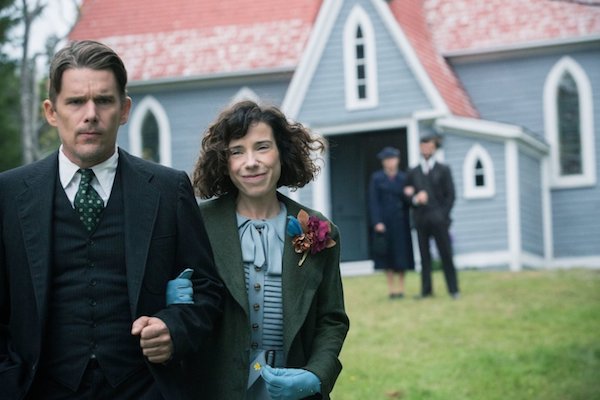 'Maudie' finds indomitable spirit in austere lives
Consider the challenges dramatizing the life of Maud Lewis, a quiet, penniless woman afflicted by acute juvenile rheumatoid arthritis leaving her hunched over with knobby hands. Isolate her in Marshalltown, Nova Scotia, and get her a job as housekeeper to a joyless fish peddler in a twelve-by-twelve-foot house and watch her develop into a famous Canadian folk artist. 
Maud's struggle could be unpleasantly sentimentalized or, at the other extreme, overly sensationalized. But in Maudie director Aisling Walsh and screenwriter Sherry White stand back to observe two down-and-out survivors from a relatively dispassionate perspective, not indifferent but more interested in watching, rather than indulging, beleaguered individuals struggling with physical hardship and emotional limitations. Walsh's presentation of this true story surprises and appeals in equal measure.
In quick succession in opening scenes, Maud, in her thirties in the 1930s, is left, I'm tempted to say "dumped," by her brother Charles at her Aunt Ida's. Maud has no say in this. Yearning for some independence and to escape her oppressive Aunt, Maud grabs an ad for a housekeeper off the local store's bulletin board. When she shows up at Everett Lewis' one-room home, he doesn't welcome Maud Dowley or actually smile at anything. But thus begins a relationship that is fresh, touching, and unforgettable because of the astonishing embodiment of Everett and Maud by Ethan Hawke and Sally Hawkins. 
Maud begins to paint to bring some smattering of color to their literally and metaphorically drab existence. As her talent blossoms, so does an abiding connection between these two. To watch Hawkins and Hawke interact is to know these two consummate actors trust every minute gesture and glance to convey complex thoughts and feelings. 
Director Walsh has said, "I wanted the film to be both intimate and expansive." Cinematographer Guy Godfree and editor Stephen O'Connell achieve that, bringing the locale to life through Maud's paintings and making carefully observed, uncommon lives thrilling. It should revive appreciation for folk art and Maud Lewis. At Landmark and AMC Cinemas. Check local listings.
Related Articles