Film Reviews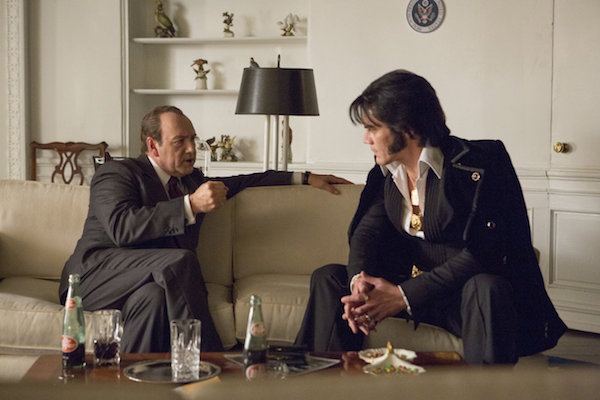 'Elvis & Nixon' is a very funny inside joke
The most requested photograph from the National Archives shows Tricky Dicky Nixon shaking hands with Elvis the Pelvis Presley in December 1970. That the two leaders of the Western World should have met is phenomenal; that Elvis & Nixon should be so funny is delightful -- especially to Americans of a certain age.
The headnotes to the film indicate that Nixon began recording in 1971, so this incident on December 21 has no transcript. The script writers -- Joey Sagal, his ex-wife Hanala Sagal, and the actor Cary Elwes -- imagined what took place that day. The three did a delicious job, letting humor bubble up out of the incident itself but also out of what the audience knows of the dramatic personae and the incidents to follow.
Liza Johnson opens her little film (it runs less than 90 minutes) with Kevin Spacey as Richard Nixon. Spacey is magnetic in that opening moment, and he continues to electrify the film throughout. Peace symbols and rainbows tell the time. There're Elvis and Graceland, scarves and flared cuffs, and his entourage. And there're Nixon and the White House and his henchmen. Two of the funniest moments: protocols for visiting the President and the King are explained painstakingly, and the square-footage of the homes of each is compared in a phallomachic contest.
Michael Shannon comes mighty close, thank you very much to nailing the part of Elvis. Jerry Schilling and Johnny Knoxville play men in Elvis' entourage. Colin Hanks is wonderfully obsequious as Egil "Bud" Krogh, and Evan Peters slithers appropriately as Dwight Chapin -- both men headed for prison by the end of the decade. The part of Diane is taken by
Dylan Penn, daughter of Robin Wright, Kevin Spacey's co-star in House of Cards.
Elvis need for a secret agent's badge and Nixon's need to appeal to the youth come together in Elvis & Nixon, wrangling laughs and knowing nods.
Related Articles