Film Reviews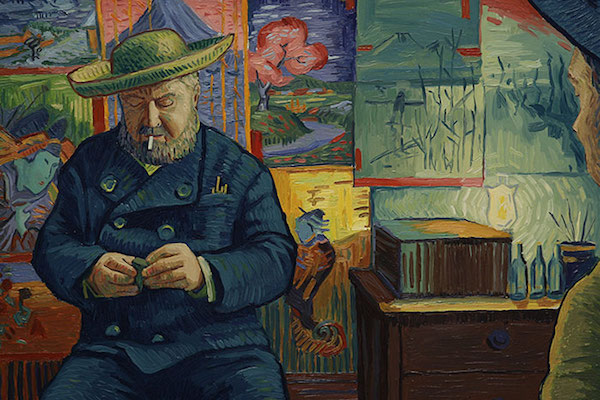 'Loving Vincent' brings Van Gogh's paintings to life
The idea for directors Dorota Kobiela and Hugh Welchman's unprecedented, gorgeous feature film Loving Vincent seems crazy at face value. They decided to use Vincent Van Gogh's paintings as the foundation for interrogating the puzzling circumstances of his death. They then hired 125 artists, from 5,000 applicants, to create 65,000 oil paintings constituting the entire hand-painted, 94-minute film.  
Welchman credits the idea to Kobiela, captivated by Van Gogh's letters and fusing her interest in film and painting. After a decade of meticulous, painstaking work, Loving Vincent emerged in gloriously saturated, vivid colors with the thick, expressive brush strokes characteristic of Van Gogh's creations, while flashbacks contrast in black and white. Animating paintings superimposed over live, staged footage brings a detective story to life, the images segueing from one to the next with startling impact. 
The  story begins at Arles in 1891, a year after Vincent's death July 27, 1890. A prickly Armand Roulin, the local postman's son, is directed to deliver the letter found in Vincent's possessions to younger brother Theo, whom he soon learns is also now dead. Thus begins Roulin's investigating Vincent's alleged suicide from a gunshot wound to his stomach, an assumption conflicting with varying interpretations of  Vincent's psychological state and interactions. Through the animation of Van Gogh's portraits and landscapes, we follow Roulin cross examining individuals about Vincent, including an innkeeper, two doctors, Dr. Gachet's daughter Marguerite, and Vincent's paint supplier. Was it suicide, murder, or an accidental shooting? (A case is made for the latter in a December 2014 "Vanity Fair" article by Gregory White Smith & Steven Naifeh.) 
Robert Gulacyzk provides the voice of Vincent himself, Douglas Booth is Roulin, with Saoirse Ronan, Eleanor Tomlinson, Chris O'Dowd, and Helen McCrory, among others, providing voices. The title Loving Vincent comes from Van Gogh's frequent signature on his letters. But most remarkably, this film's oil paintings generate an overpowering impression. Twelve oil-painted frames equal one second and ten days work. The introduction sets the stage as the camera travels in close-up around and then in long shot into Van Gogh's Starry Night via 600 paintings, a shot taking over a year to complete. Loving Vincent features the beauty of Van Gogh's art and the monumental achievement of the artists bringing it to life. At Landmark's Plaza Frontenac Cinema. 
Related Articles