Film Reviews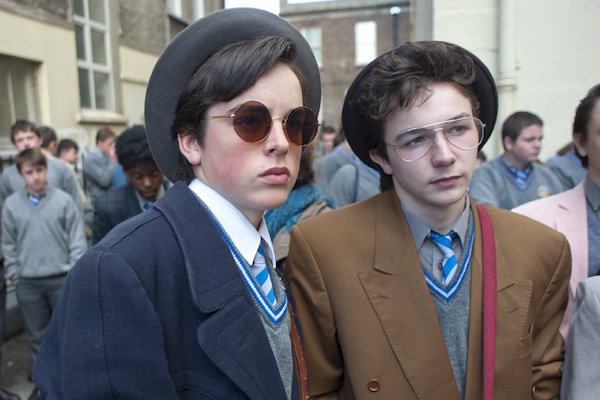 'Sing Street' exuberantly mines '80s music videos
Sing Street has such rich humanity and appealing humor that I applaud writer/director John Carney's nerve. He embraces the "Hey, let's form a band" conventions which he then enlivens with three-dimensional characters and restrained but astute social commentary. It's 1985 Dublin when 14-year-old Connor "Cosmo" Lawler learns that his parents' money crunch means he'll attend a new school.
The priest who runs this nearby Catholic school physically and abusively enforces his rigid ideas of acceptable behavior, and he's just one of Cosmo's tormentors. But Cosmo has a backbone and an imagination, and in short order he approaches THE coolest girl around, Raphina. Cosmo then must recruit other outsiders for the heretofore nonexistent band he's bragged about, promising Raphina a music video as the way to her heart.
The band eventually called Sing Street, becomes enamored of 1980s music videos, as was Carney. As the clueless friends search for their musical and costume style, they imitate, to our delight, the groups they listen to from Duran Duran to The Cure, Depeche Mode to Joe Jackson, with some license as to chronology. They also write a couple good songs of their own as they ricochet from one look and affectation to another.
Best known here for Once and Begin Again, director Carney demonstrates his cinematic expertise. He uses slow motion of the boys walking, never lingers on one musical signature too long, and adds details and dialogue that endears and amuses. For example, one band member loves rabbits and keeps several around. And Carney writes about serious issues extremely well, suggesting much more than he shows.
Ferdia Walsh-Peelo as Cosmo, Lucy Boynton as Raphina, and Jack Reynor as Brendan deliver thoroughly professional, impressive performances, as do all the band members. Walsh-Peelo is, off screen, a trained opera singer, who convincingly seems to strain for musical expression here. Director Carney clearly deserves credit for so casually capturing scenes that pulse with joy, especially those with college drop out, older brother Brendan.
With its buoyant storytelling, witty exchanges, and charming young characters, Sing Street is an immensely enjoyable film. At a Landmark Theatre.
Related Articles