Film Reviews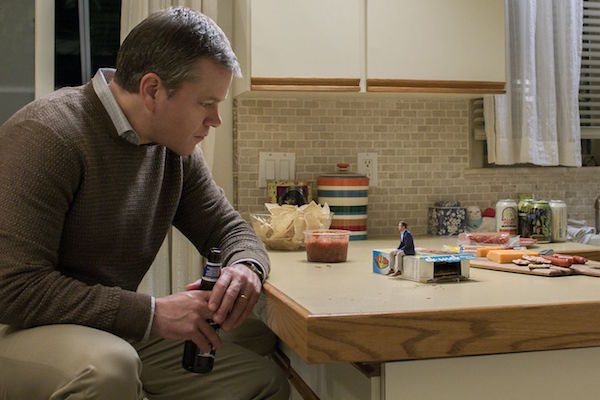 'Downsizing' satirizes society's excesses
For regular people, talk about going small means getting rid of extraneous possessions they've accumulated. But for those in director Alexander Payne's film "Downsizing," it literally involves shrinking themselves to miniature size, five inches tall, thanks to a technological breakthrough by Scandinavian scientists. Idealistic volunteers thereby help relieve the demands an increasing population makes on the environment. 
Enter Paul (Matt Damon) whose debts mount as he works at a mind-numbing call center and his wife Audrey (Kristen Wiig) who agree to the procedure, which is explained as Paul is miniaturized. Joining his old friend Dave (Jason Sudeikis) in Leisureland, a planned community, Paul discovers a new life. 
More than in previous Hollywood productions, co-writer/director Payne proposes his science fiction concept seriously though there are amusing moments. To be sure, "Downsizing" satirizes several aspects of society, in addition to an ecological plea to minimize our impact. Payne includes subplots involving an illegal Vietnamese dissident working as a cleaning woman (Hong Chau); an unpleasantly self-indulgent neighbor exploiting the tiny world (Christoph Waltz); the lure of romance; the threat of global warming as well as money pressures and, in Paul's words, "doing something that matters." In fact, this new world isn't much different from ours, only smaller.  
The first half of this two hour film is the more intriguing and playful with Payne's social satire taking aim at topical issues. However, once in Leisureland, the episodic plot digresses, losing its focus or perhaps its confidence in the downsizing concept. Some of the humor lands, while aspects of succeeding plot points are a tad condescending and strained. Part of the problem is that co-writers Payne and Jim Taylor include enough material for another film, so much that they can only superficially address additional topics. 
Technically, the miniaturization is well executed, with some nice forced perspective shots. And it's fun watching the five inch Paul interact with full-size objects: signing his name on a document, examining a rose, being moved off the operation bed with a spatula. Over all, "Downsizing" doesn't hit a high mark, as Payne's "Nebraska" and "Sideways" did for me, but it does provide a pleasant diversion. Check local listings.
Related Articles