Film Reviews
Film Reviews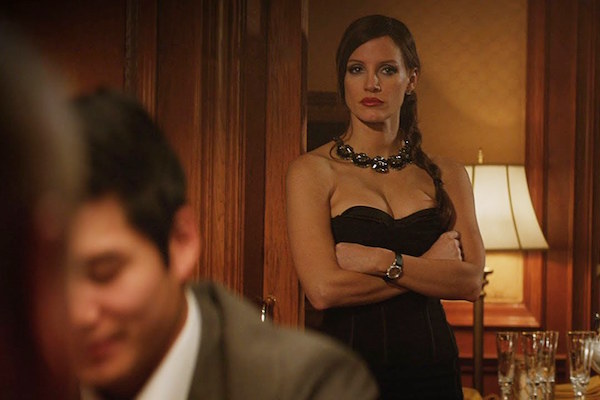 'Molly's Game' moves quickly with a chilling ambiance
By
In "Molly's Game," first-time director, long-time screenwriter Aaron Sorkin crafts his characteristically witty, rapid-fire dialogue in this fast-paced but chilly story. That suits Molly Bloom, cold and calculating, aloof and predatory, who for two hours and 20-minutes fails to engage warmly with anyone, an apt and insightful skewering of the world of greed and gambling.
The skilled Jessica Chastain plays Molly, an accomplished mogul skier aspiring to the Olympics before she catastrophically crashes, a complementary metaphor for what follows: Molly's rise from a bargirl hustling expensive alcohol purchases to running a high-stakes poker game. Both careers involve a delicate balance of judicious aggressiveness and audacious risk-taking. But the drama ebbs and flows, occasionally thrilling to contemplate but curiously lackluster, primarily due to Molly's argumentative, self-satisfied voiceover narration intruding too often to guide revelations and probe emotions not evident, as they should be by a riveting central character.
I give nothing away commenting on her skiing disaster which occurs before the opening credits and the FBI's arrest of Molly since the film is told through flashbacks to twelve years before her apprehension. Several great exchanges come courtesy of Idris Elba, who plays Molly's reluctant but savvy lawyer, another shrewd, icy pro. Also factored in are father-daughter issues with Kevin Costner as the wise patriarch. Often on the defensive, all but patted on the head by mentors, Molly does not anchor a feminist work.   
Based on a true story, Sorkin adapted the film from Bloom's 2015 book, its title accurately summarizing the substance: "Molly's Game: From Hollywood's Elite to Wall Street's Billionaire Boys Club, My High-Stakes Adventure in the World of Underground Poker." Fictionalized characters here represent Hollywood, namely Michael Cera, one of the few high rollers who doesn't come and go as a lackluster stereotype. (As author Molly named Ben Affleck, Tobey Maguire, and Leonardo DiCaprio.) This often somewhat flat appeal would be alleviated with less showing off of quick exchanges in favor of emotional, complex character development. As it is, Sorkin's world exists to highlight the pace. What we need, as classic screwball comedies showed, are individuals who invite involvement. "Molly's Game" screens at area cinemas. Check local listings. 
Related Articles