Music News
Music News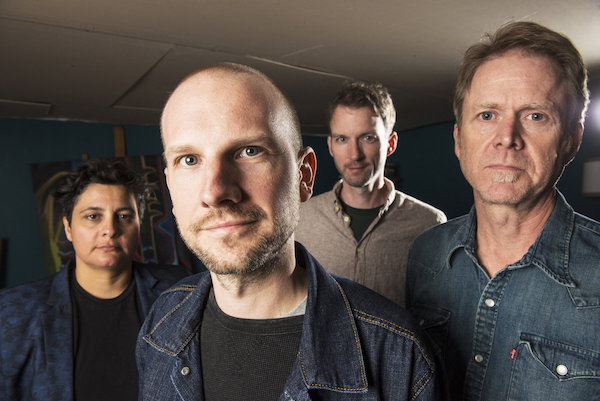 Grace Basement releases 'Mississippi Nights' at Foam on Friday, February 23
By
Local roots rock band Grace Basement will grace St. Louis with a new album and CD-release concert this Friday night at Foam on Cherokee.
It's the fourth full-length album for the quartet headed up by multi-instrumentalist and producer Kevin Buckley. Nostalgically titled "Mississippi Nights," the album contains rousing, hooky guitar rock and wistful ballads, peppered with colorful backing vocals, strings and organ. The crowd on Friday will be treated to a live string section alongside Buckley, drummer Jill Aboussie, bassist Greg Lamb and guitarist Marc Schneider.
The track "Slowly Causing (everything you've wanted to come undone)" could be Grace Basement's version of the perfect pop song. Impossibly infectious, the song blends a crazy time signature with evocative vocals, staircase walkin' guitar lines and velvety organ and horn parts.
Buckley comes from a very musical family. His father, grandmother and grandfather were musicians as well as many relatives too. His main instrument as a child was violin. As a teen, Buckley received a master apprenticeship with local Irish fiddler Niall Gannon. The experience convinced him that he wanted to go all in with music. Buckley said once he got his hands on a 4-track, his songwriting activity started flourishing. Grace Basement grew out of a set of tracks he and some friends recorded in the mid-2000s.
---
Matt Fernandes: How did Grace Basement get started?
Kevin Buckley: It was around 2005-ish I pulled together ten or twelve songs, made demos and took the tracks up to a guy named Matt Dewine up in Chicago. He was working at Jay Bennet's [of Wilco] studio. Matt mixed the home recordings I had made. I got home and wondered, 'What am I going to do with this?' I thought about it and I thought the name Grace Basement was kind of cool since I was living in a basement at the time. And then I released the record and that was it.
Having never played a show we released the record. I think we did our first show at Off Broadway and nobody in my family knew that I did any of this so it was kind of funny. My parents showed up and were like, 'OK, that's cool!'
MF: Tell me about the new album.
KB: It's a combination of newer and older songs. I think in terms of albums so when songs come along, I kind of put them into different categories whether it's a poppy acoustic record or a more rock and roll thing.
MF: It sounds like there are a lot of diverse influences in the songs.
KB: I do a bunch of different stuff and I've actually been jealous of people who do one thing and do it really well. Take the White Stripes where there is this kind of unity to the sound. I admire people who have that kind of focus but I've always been drawn to the more Beatles-ey approach where you kind of play with different styles of music.
MF: And you use your own recording studio?
KB: I do. Around the time of the 4-track I started getting interested in collecting recording gear and have been building it up slowly over the years. I record other bands too. I'll do a couple of records a year. I like doing that, it's completely different way of thinking.
MF: I like the name of the album, 'Mississippi Nights.' Did you spend a lot of time there back in the day?
KB: I saw so many great shows there. I'm not trying to fetishize the venue, though. I thought the words sounded evocative and it's just kind of a double meaning. There are quite a few local people who hear Mississippi Nights and think of the club. I was really trying to think of this as a local record.
MF: My personal version of 'where did you go to high school' is 'what are the best shows you saw at Mississippi Nights?'
KB: Probably the first show I saw was They Might Be Giants and it was pretty mind-blowing just seeing music in those close quarters. I got to see Willie Nelson there, believe it or not. I saw Ween there, really liked that. I got to play there once with Tim Easton who was opening for the Jayhawks. It was pretty exciting. There was a bunch of shows I missed there. One in particular was Dave Rawlings and Gillian Welch played. I had to work that night and didn't go. My priorities were different then as well. Now I will gladly take a financial hit if it's going to be a great night. 
MF: CD Release show at Foam -- what can people expect?
KB: We'll kick things off around 8 p.m. The Native Sons are opening, they're buddies of mine. They're kind of a rootsy rock and roll band. They have a lot of fire. We'll take the stage after that. We are bringing in a string section which we've never done before live. We had an opportunity here so we thought it would be cool to perform the string parts live. We'll have a lot of variety.
MF: Do you have any touchstone albums you can think of that may have inspired the current album?
KB: It's more of a rock and roll-based record, so John Henry by They Might Be Giants comes to mind. There are some elements of 1970s inspired rock like Tom Petty and Big Star as well. The second Wilco record also has that kind of homage to 1970s rock that I like. 
Related Articles