Music News
Music News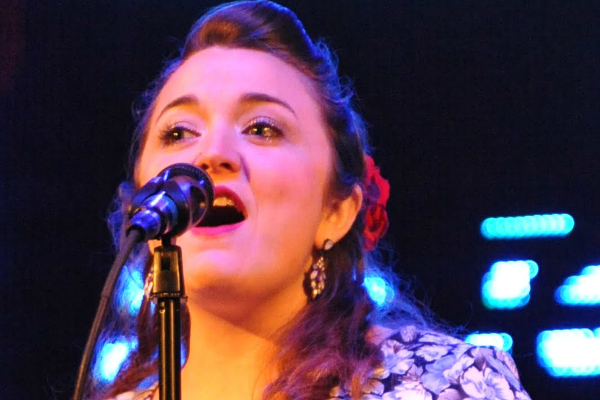 Live at the Casa Loma with Sweetie and the Toothaches
By
What do you do when your December go fund me campaign to make a studio CD fails? If you're St. Louis band Sweetie and the Toothaches, you pick up the pieces and make a live one at the Casa Loma Ballroom. 
The band is the creation of two talented artists, vocalist Emilie Richard and piano man Chase Garrett. Both migrated to St. Louis within six months of each other three years ago. They met at Yaqui's on Cherokee Street where Garret's keyboard buddy, Ethan Leinwand, was playing. He had come to town to check out the music scene. More visits followed. Meanwhile, Richard began her first foray into singing by getting invited to sit in with Miss Jubilee. She got the bug. 
When Garrett moved to St. Louis in the spring of 2015 from Madison, Wisconsin, he hoped to land the same type of solo gigs he had worked for the previous six years. His new friend Richard had become a vocalist in search of a band. It was the beginning of something beautiful. Today, Sweetie and the Toothaches is a six-member band specializing in a KC Swing and Jump Blues style that attracts a real dance crowd. Garrett, the band's musical director says, "The music is influenced by our love for Count Basie, Erroll Garner, Oscar Peterson and always, Otis Spann."
They played their first show in December, 2015, at the Blue Pearl. During the next year they were invited to record their song "Bigger Fool" on the St. Louis Blues Society's 16 IN 16 compilation. Garrett would also continue to do occasional solo appearances and recorded his song "Sailor Man" for the 17 IN 17 compilation. The band has coalesced into a tight group that also includes saxophonist Josh Baumgartner, Missy Camp on trumpet, drummer John Marshall, and Paul Niehaus on standup bass. 
Niehaus is the hook in this story. Besides being one of the most sought after players in town, he is also the incredibly productive owner/producer of Blue Lotus Studios. The studio is the mainstay behind the Blues Society's compilations, as well as a series of original soul music albums with Roland Johnson, Gene Jackson, Kim Massie and others. So when the fundraising effort failed, Richard and Garrett reassessed the situation with Niehaus. 
They concluded it was cheaper to make a live album than to buy hours of studio time. Garrett, who had some previous experience with live recordings of his annual Piano Stomp, said he was good with the idea because, "I love the live energy and a recording of it can make you feel like you are there." Richard too loves the energy but recognizes of the need for humility: "When it's live there is no going back. If you mess up, it's there. That's life." Niehaus, who loves to play and record, had all the tools. 
It all came together on a cold Friday night on February 9, 2018, at the cavernous, historic Casa Loma Ballroom where the manager, Tommy, will show you the exact spot his parents met in 1942. Manny, the sound engineer worked with Niehaus to get all the gear set up and run multiple sound checks. There was the ballroom sound system as well as all the additional mics for recording. Niehaus wanted a multi-track recording which, he explained, meant that "each microphone/input goes to its own separate track so that I can pull up all the separate tracks up my console, apply any needed processing to get good sound, and mix it down to a stereo file."
Everything was good to go for the 8 p.m. start. Dancers were there and ready to go. There were even dance lessons for newbies prior to the start. The first set of 15 songs were the ones they wanted to record. They planned to do so again as the third set, so they would have two recordings of each song. But, things happen. The first set ran long so they decided to drop the third set and mixed in a few songs that they felt needed a redo into the second set.  
The music was great. The dancers danced. The Casa Loma lights put on a show. The band played their hearts out and everyone had a good time. Now Niehaus is working his studio magic on the live recordings. From those they will select 10-12 songs for "Sweetie and the Toothaches: Live at the Casa Loma Ballroom." Planning is underway for a spring release party. If you come to the party, don't forget to bring your dancing shoes.
Sweetie and the Toothaches perform at the Casa Loma Ballroom on Friday, March 16. 
Click the photo below to see all of Bob Baugh's photos of the evening.
Related Articles