Music News
Music News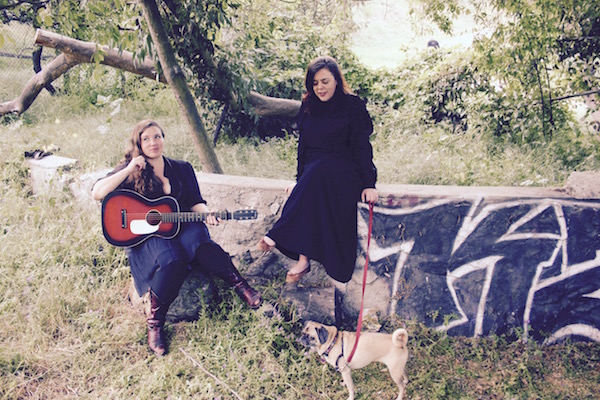 Jolie Holland - Voicing her roots
By Ronnie Wisdom
Jolie Holland is finally recording the album she has always wanted to make.
After founding and recording one album with the Be Good Tanyas, Holland has recorded five solo albums, a live album, and multiple collaborations. Now she rejoins Samantha Parton from the Tanyas to record the album she always wanted to make back then. 
Hearing them together is a great reunion, though luckily, Holland has not been silent. Upon returning to Texas in the days following the devastation left by hurricane Harvey, Holland conceived of and curated a compilation album of love, hope, despair, and the intricacies of East Texas to benefit those who have been displaced by the flood waters.  
Days before the release of the compilation album "Hummingbirds and Helicopters" and at the beginning of her tour for "Wildflower Blues," I discussed with Holland what she is reading and the development of these recent albums. 
Holland has long been noted for her unique singing voice which heralds to roots music, scratched-record blues and a musical timelessness. Her speaking voice is different, refined and comfortable and only slightly southern. She says, "It drifts around. My grandparents live in deep East Texas and my other grandma is from New Orleans. And I grew up in Houston which is pretty, like, it's not accentless, but it is more cosmopolitan than East Texas."
Speaking and singing true to her roots is important, however. It is a cultural note of pride.  
"When I first started getting into this type of roots expression it was very conscious because so many people around in Houston were singing with fake British accents.  Because we were all into goth music," Holland said. "We were all listening to this music from the UK. And the first band I heard that wasn't a country band that didn't hide their southern accents was Uncle Tupelo. So, I was really inspired by them. And it felt like music that's really creative and honest.  And the honesty had to do with not hiding your accent.
"I think about growing up hearing George Jones. He's so artful and such a powerful interpreter of melody. And so true to his accent. I don't think it would occur to him to disguise his accent. It was kind of a marrying of those ideas. My mother tried to hide her accent--coming from East Texas. And there was this attitude that it was ignorant. It was a sign of not being educated." 
Yet Jolie is far from ignorant; in mirth she admits she is, "well-read to a fault."  If she weren't singing, she says she would devote more time to her authorship and "another almost completely destroyed industry."  She laments the difficulty of making a living as a musician or author, but this doesn't dissuade her passions. She is a collector of ghost stories and considers retraining for social work. 
"I'm really into certain branches of psychology and I've been looking at this one organization (Freedom of Mind Resource) which helps people get out of cults. I've been thinking about getting retrained to do that just because I think that work is so valuable." 
When Holland says she is into psychology, she is speaking as true as she sings.  
"I'm really into this guy Jeffrey Kripal. He's a doctor of comparative religions in Houston at Rice University.  It's like Jungian analysis - and it goes far beyond what I'm about to say, but he does Jungian analysis on people's alien abduction stories. It's amazing, " she said.
"That kind of stuff has totally always freaked me out. I'm a ghost story collector and I've collected probably 100 accounts by interview. And I never want to hear about aliens," Holland explained. "It just creeps me out. Jeffrey Kripal puts it into a psychological context and reframes it."
While Holland's myriad of intellectual passions inform her, they are different from her singing, which she was happy to talk about.  After a prolonged hiatus, Holland got together with Parton to record the sultry "Wildflower Blues." 
The album, which opens with a Townes Van Zandt cover, is achingly sweet, yet leaves grit in your teeth. And reuniting with Parton, as Holland says, "was a dream come true.
"I only stayed in the [Be Good] Tanyas for a year and a half. I really started the band because I met Sam and I wanted to have a band with her. Then I just didn't want to stay in the band as it was," she explained. "There was a lot of reasons I left the Be Good Tanyas -  some of which had to do with citizenship. I was the only non-Canadian in the band and it was sort of difficult to be up there and stay up there. So doing this band is like what I wanted to do 18 years ago. Sam's an amazing musician and I love working with her."
Parton has survived two severe car accidents, but Holland said it doesn't affect the tour. "It's the same. She's the same. She just has to make sure she's not pushing it too hard," Holland said of Parton. "We just make sure we don't stay out on the road too long. There's always constraints around what you can physically handle and this is just a different set of parameters. It's barely different from normal tour; it just is shorter."
Not only has Holland returned to a former and seminal musical relationship, it was the return to Texas in the aftermath of Hurricane Harvey which inspired the compilation album, "Hummingbirds and Helicopters."
"It was so crazy that I was coming back to my home state in the midst of this horrible disaster," Holland explained.  
She said the compilation album does more than just celebrate the region or highlight the musicians. 
"It calls attention to the region in a positive way. It says the Gulf Coast is a totally a super important cultural estuary," Holland said. "You know, in American music it is the birthplace of rock 'n' roll and jazz. It's an incredibly musically creative area. It allows musicians to have something to do. Because there is not much that a lot of us can do to help. But this is one thing.  You can record a song. And the organization that the money is going to is run by a wonderful friend of mine. I love knowing that she did really great work in the area."
The proceeds benefit the Schoolbox Project which sets up school houses in areas of trauma and displacement, such as refugee camps and hurricane damaged areas such as East Texas and Puerto Rico.  
"They help kids. It's like a therapeutic environment, first of all, helping kids deal with trauma," she said of the organization. "But also it's a school. It's keeping them still learning. And it's also keeping them safe from trafficking. Because in moments of upheaval, that's a time when the vultures can really swoop in on vulnerable populations."
Alongside the vital cultural impact, Holland said that this album was important to her musically. She said there will be follow-up albums and she'd like to record one for Puerto Rico.
Like all great music and perhaps joining Holland's sensibilities to ease another's suffering, "Hummingbirds and Helicopters" is meant to alleviate and inspire.  
Holland concluded our chat with her dreams of what the album would do for listeners.
"I just want to inspire people to stay grounded and keep feeling what is going on. I'm hoping people can continue to be inspired by their feelings instead of feeling just completely overwhelmed  - which is how so many people are feeling right now."
If it is feeling you are after, Jolie Holland will deliver. Catch her performing with Samantha Parton at the Stage at KDHX on Wednesday, April 4. The album "Hummingbirds and Helicopters"  is due to be released on April 6. 
Related Articles