Music News
Music News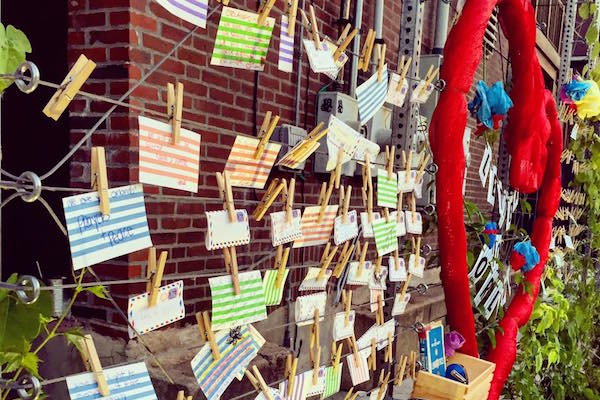 Tower Grove Pride 2016 throws a community-driven, musically powered festival
By Tina Farmer
If you're looking to take part in Pride festival this weekend, you'll find many options to choose from in the St. Louis area, including the Tower Grove Pride 2016. This free, low-key, block-party event in celebration of LGBT culture will be held from 12pm to 8pm Saturday, June 25 at Ritz Park, 3147 South Grand, between Juniata and Hartford. 
Located along the St. Louis Pride Parade's former route down South Grand, the fourth annual Tower Grove Pride festival will feature a number of performances throughout the day by local artists from across the St. Louis music scene. There will be plenty of eats and drinks and a number of vendor booths, many of which will feature locally-made handcrafted gifts, including jewelry and candles. 
Local performers this year include Celia Shackattack (guitarist/vocalist host of the Sing-A-Long Dance Party), Duck Brown (ska), C-sharp (rap), Jamie Axton (rock), DJ sets from I Went To A Show, and a number of bands from St. Louis' thriving punk scene. Expect to hear sets by grrl garage-rockers Mirror Mirror, lo-fi jammers Sunday Candy, the elusive duo known as My Bloody Underwear, as well as kitchen-sink punks Tiger Rider and the ever-heavy Skin Tags, both of which performed in last weeks' RFT Music Showcase. RFT Award nominees, the one-of-a-kind, electro-pop outfit Superfun Yeah Yeah Rocketship is also scheduled (and sure to bring some kind of cardboard cutout of Fabio). 
As opposed to the arena-name headliners downtown, the all St. Louis line-up shows the appeal of Tower Grove Pride, rooted in its local focus, as championed by Autumn Wiggins and Michael Powers, the event's organizers along with Melinda Cooper, tireless front-woman for the Town Cars who put together the line-up and will also be performing at the event, hot off their Atomic Cowboy performance last weekend, also as part of the RFT showcase. Though perhaps not as flashy as some of the other celebrations around the city, Tower Grove Pride is sure to fill Ritz Park the with warmth and welcome of a neighborhood that's become a thriving mix of cultures and personalities, the perfect location for a festival that has intentionally aspired to remain a community-focused, homegrown celebration. 
Past years' festivals have also included a number of activities intended to raise awareness while encouraging active participation and open conversation. This year, the festival includes an art installation "Letters to Orlando" that organizers and members of the community have set up to encourage notes of love and support for victims of the Orlando attack and the area's LGBT community. Everyone is invited to help complete the piece at art-making tables set up around the installation. After Pride weekend, the letters will be sent to Orlando, enabling St. Louisans to contribute to the growing memorial and outpouring of care from around the world. As the festival organizers note in their Facebook post on the installation: 
There is no right or wrong way to personally process national tragedies, and this time has been especially difficult for the LGBT community and it's allies. We can post and share in grief on social media, but sometimes you can't find the words without a pen. For some, it helps to make art. Here is a meaningful space to do just that.
If a relaxing, art and music-filled party is how you see yourself celebrating St. Louis Pride weekend, Tower Grove Pride in Ritz Park is where you'll want to be this Saturday.
Related Articles