Music News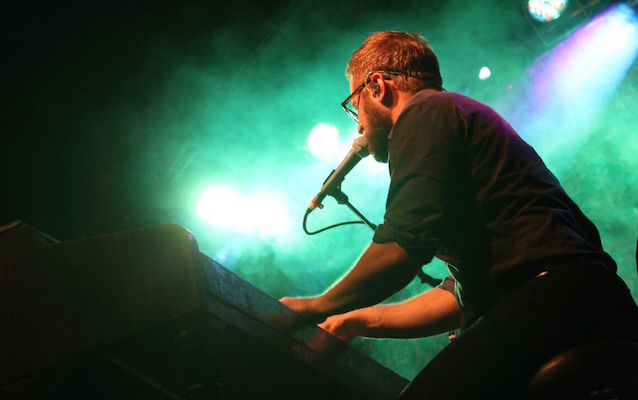 Piano Rocker Lucas Jack makes St. Louis his new home and dives headfirst into the scene
Singer, songwriter and pianist Lucas Jack just moved to St. Louis in July from San Antonio, Texas, where he developed quite a following. A modern throwback to the great piano rockers and pop artists of the 70s and early 80s such as Jackson Browne, Leon Russell, Elton John and Billy Joel, he'll celebrate the official release of his new album, Make it Beautiful on September 14 at Off Broadway (with opener Emily Wallace). 
The new album, he says, "is a lot 'poppier' than my previous material, which had a more organic sound. This album has a lot more synthesizers and auxiliary percussion tracks, and a bit more production shine on it. In place of pedal steel, fiddles or horns, I have synthesizers and drum loops." 

He recorded Make it Beautiful with his three-piece band, which includes Michael Gomez on drums and Justin Schneider on bass, with Lucas taking the lead on piano and vocals. They will perform with him at the album release show. 
Growing up in Kalamazoo, Mich., Lucas says he can't even remember the first time he played the piano. "It's like asking, 'when is the first time you ate a banana or drew a picture with a pencil?' We always had a piano around, and I just always remember banging away at it. I started proper piano lessons when I was probably five years old and took them my whole life, even up through college."
As early as high school, Lucas was playing small shows in piano bars, as well as at church and weddings; but he never really allowed himself to consider it as a potential career path. 
"I just knew it was something I wanted to do my whole life and that I'd always have a piano and be playing, because it's really cathartic and helps me process feelings that I have. It's a way that I cope with things that disappoint me and things that make me sad. It's an emotional experience for me," he says. "But I didn't have confidence in that it would matter to other people the way it matters to me, so I mostly just played for myself."
While performing in various bands and writing music, he also attended law school in Chicago and became an attorney. It wasn't until after met his wife at a St. Louis gig with one of those bands that being a full-time musician became a real possibility in his mind. "She was like, 'Oh, you're a musician,' and I thought, 'Yeah, I guess I am,'" he says.
They married in less than a year and suddenly found themselves moving to San Antonio, Texas, where she was set to show up for active duty in the Air Force. That's when Lucas got serious about taking the leap into music as a career.
"I decided when I moved there that I was just going to play music as a full-time career and make a go of it," he says. "I made that decision at a time of great upheaval in my life. I was leaving a career in Chicago, leaving all my friends, moving to Texas where I didn't know a single person. I wasn't very happy being a lawyer. So I became Lucas Jack the piano player and singer and songwriter, and I've just never looked back."
While he left his law career in the dust, Lucas says those skills have certainly come in handy as he navigates and learns more about the music business. 
"I think the business acumen I bring has made me a better manager of my career and has helped me make better choices as far as what shows I play and people I hire and what albums I release," he says. "Having a law degree and an accounting degree certainly doesn't hurt you when it comes to those kinds of things." 
Though he's played in St. Louis a few times before, the album release show at Off Broadway will mark Lucas' first performance here as an official resident. He's already throwing himself headfirst into the local music scene and has been quite pleased with what he's found. 
"I see a real celebration of local music; a championing of the local scene here where people take a lot of pride in their own. I think that comes through in local publications and also on KDHX, which has been very supportive of my albums in the past," he says. "On top of that, there are so many clubs -- and not just big stadiums or hole-in-the-wall dumps -- but nice, mid-sized rooms where local bands can bring 50 to 200 people and have a really great show with good sound and great lights and get good press and promotion. It's been really refreshing to see how vibrant the music scene is here and how much everyone celebrates a real diversity of music. And people here go out to see live music -- and see local music." 
When he's not banging the keys, Lucas is happy spending time with his wife and two young children, as well as other family and friends that live here, and exploring all that his new home city has to offer. 
Related Articles