Music Reviews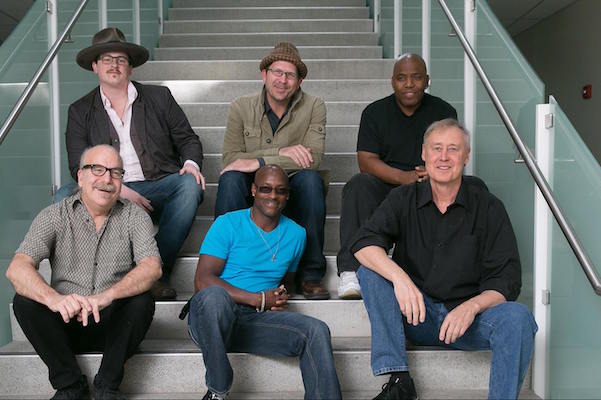 Bruce Hornsby and the Noisemakers reflect on the old and new in an intimate performance at River City Casino on Saturday, May 21
It was 30 years ago this year that Bruce Hornsby released his debut album, The Way it Is, with his original band The Range to great success and critical acclaim. The album eventually went multi-platinum and earned Hornsby the coveted "Best New Artist" Grammy Award. Now 61 and a bit grayer at the temples, he paused to reflect on this milestone at an intimate show at River City Casino on Saturday night.
In a phone interview a couple weeks prior to the show, Hornsby told me that he finds that first album "unlistenable," but knowing a lot of people really love it, he seemed to be quite at ease performing a couple classics from it, including the still gorgeous "Mandolin Rain" (with Ross Holmes accompanying on the instrument itself as Hornsby tickled the keys) and "On the Western Skyline" (on accordion).
This trip down memory lane was balanced with a focus on the now -- specifically the band's forthcoming album, Rehab Reunion, which hits shelves June 17 and is Hornsby's first studio album of new songs with The Noisemakers since 2009's Levitate. Also new is the fact that Hornsby doesn't sit at the piano on this album but leads the band on the dulcimer, which he's been infusing into his live performances and recordings increasingly over the years.
In a mini dulcimer set, Hornsby -- joined by Holmes on mandolin and drummer Sonny Emory on washboard -- introduced fans to the "bookends" of the new album: "Celestial Railroad," a tune he penned decades ago and duets with Mavis Staples, and the lovely "Over the Rise," the album opener that was recorded with backing vocals by Bon Iver's Justin Vernon. He also played a nearly unrecognizable, stripped down version of his 1988 hit "Valley Road," which appears on the album as well.
In a jovial mood, Hornsby delighted the intimate room with stories, jokes and anecdotes as he worked the stage, moving between the piano and accordion. The Noisemakers, his band of many years, was in peak form, particularly guitarist Gibb Droll, who complimented Hornsby's flawless piano with a sublime solo on "Go Back to Your Woods," a re-worked version of the tune by Robbie Robertson. Ross Holmes provided a lovely extended fiddle intro to the song as well.
Organist JT Thomas added depth to Hornsby's piano and cracked up at his jokes as only a good old friend could. JT Collier's bass rounded out the sound. Hornsby likened performing with The Noisemakers to a "big party," and that's definitely the vibe they put out on stage, particularly during upbeat tunes like "Jacob's Ladder" and "Place Under the Sun."
Hornsby did an impromptu and timely performance of "Don of the Dons," a quirky tune about Donald Trump he penned a few years back for a musical, which he prefaced with a story about running into The Donald at a Knicks game and singing it for him in person. Another set highlight was "Black Muddy River," Hornsby's lovely take on the later Grateful Dead tune, which he's performed live for many years and recently recorded with Justin Vernon for the newly-released Day of the Dead tribute album put together by brothers Aaron and Bryce Dessner of The National.
Hornsby and The Noisemakers capped off their two-hour set with "Dreamland," a pretty tune that he duets with Sir Elton John on the album "Halcyon Days," to a standing ovation from the crowd. As always, Hornsby proved his station as one of the most talented musicians, singers and songwriters of the past 30 years. If anything, his voice has only grown more soulful with age.
Related Articles