Music News
Music News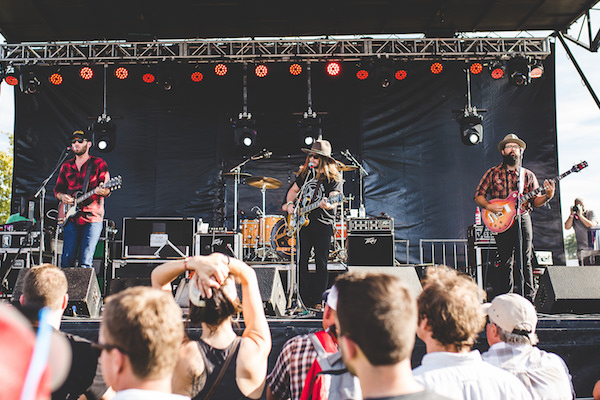 Riff Rockers Quaker City Night Hawks hash out devilish riffs to LouFest crowds, September 10, 2016
By Kevin Korinek
One of the best finds of the first day of LouFest was rock 'n' roll quartet, Quaker City Night Hawks, a four-piece patchwork of all things 1973 and Texas justice. The Fort Worth based band made easy work of a late day shift at LouFest, drawing most of the crowd to the BMI stage and keeping them entranced up through the final jam. Comprised of bassist Pat Adams, drummer Aaron Haynes and guitarists Sam Anderson and David Matsler, QCNH set the tone for the rest of the festival, especially Saturday's Kentucky-born headliner Chris Stapleton. As we've seen some great music coming from Texas the past few years, QCNH have had a slight advantage being in Fort Worth, away from the hustle and bustle of Austin. Adams cites that distance as one reason they've been able to work and build an audience so easily: "Austin is very cutthroat, but Fort Worth is awesome -- it's kind of like an incubator scene, and because it's not Austin you can actually get your shit together and hone your craft."
Since forming nearly a decade ago, the group has released four albums, their newest as early as last spring. In true blue-collar fashion, they've worked hard and fast to get where they are. "We were a band for six weeks before we cut our first record," Anderson says. "It was really rushed because we had to complete it in five days, so it was very difficult, but this last record, we had plenty of time to try shit out and get a feel for what we wanted to do."
Trying shit out never sounded so good. The new record, El Astronauta, is a doozy. Laden with devilish riffs and lyrics to match, it sounds like the lone-star love child of ZZ Top and Creedence Clearwater Revival. "It felt like the first time we've ever felt like ourselves," says Anderson. Matsler agrees, "I feel like it's the most fully realized album we've put out so far." The band takes it's inspiration from all things west Texas and Matsler says that's all by design. "I'm interested by a lot of old school, 70s country, blues players like Freddie King -- there's a great culture of rock 'n' roll and Texas blues where we come from."
That inspiration and long nights brought forth the sci-fi/acid-blues and Southern rock arrangements on El Astronauta, which is sure to be on a host of 'Best Of 2016' lists by the end of the year. But inspiration is not without it's drawbacks, and Adams says it took some time to get the new album finally on the shelves due to the production schedule, "We had El Astronauta in the can for the past year before it was mixed mastered and ready to be released." Still, he's optimistic about the process going forward: "We hope to keep up a steady pace of music. We're lucky in this band to have two guys that write songs constantly."
Typically, Anderson and Matsler write songs individually before bringing them to the table where they get reworked in night-owl fashion. "It's been a hallmark of this band from the start," Matsler says. "We didn't want to co-write, it's not comfortable -- I'd rather do it at my house with my pants off," he laughs.
All jokes aside, each band member brings a number of influences to the drawing board. As Haynes says, it's all about the song: "That's where we have the most common ground. It's the song that's the most important thing, that's what's going to come out in the melodic structure of the tune. We'll all get out of the way, put our egos aside for the song."
"Yeah, our egos are stupid," Anderson quips. And a band without egos is a band that knows how to rock. After LouFest, QCNH will hit a few dates on the East Coast before heading back home to play the Austin City Limits festival, work on another record, and play some more hometown shows. "Some of those nights are very special performances," Matsler says, "It's like a totally different show, because we're the most comfortable there. Forth Worth is home base for us." Without a doubt, the rest of us will be looking forward to the next time QCNH make their rounds through here.
Click below for more photos of QCNH's performance at LouFest.
Related Articles