Music News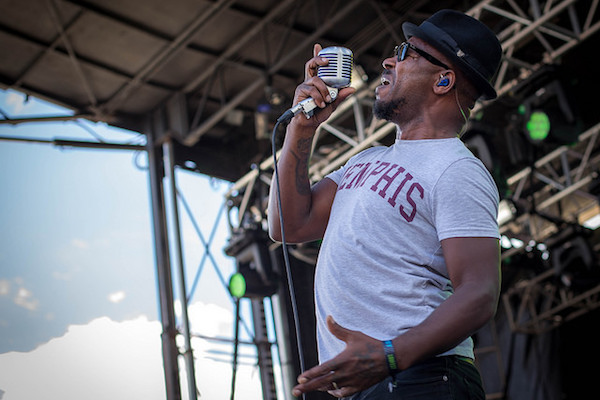 The Heavy make new friends at LouFest, September 10, 2016
Hailing from Bath, England, the quartet the Heavy experienced a curious kind of ubiquity early in its career when the song "How You Like Me Now" was used in countless movie trailers and commercials. It introduced the band and its forceful style that used the language and verve of classic soul to make arena-sized rock songs. The band's latest, Hurt & the Merciless was released this year and features some lush string and horn arrangements -- some courtesy of Daptone Records impresario Bosco Mann -- alongside full-bodied, mod-inspired hooks. Singer Kelvin Swaby and bassist Spencer Page had a chance to sit down with KDHX before the band's Saturday afternoon slot on the LouFest Forest Park Stage.
Christian Schaeffer: I wanted to ask about the new record, Hurt & the Merciless. It's your first record in four years, and that seems to be the longest gap between records for you guys.
Kelvin Swaby: We were still touring during that time, we just weren't touring here. We had a song that was used in a commercial in Japan for Pepsi, so we kind of concentrated our efforts there for a little while. It wasn't just a four-year sabbatical.
Spencer Page: And recording took longer than anticipated to finish the album as well.
KS. When you go into a record, the way we really, really wanted to go about it this time was that we had some ideas but we wanted to go in and really rehearse as a band. That's what took the time -- to actually find the sweet spot where you can base the rest of the record around it. For me, it came when were recording "Miss California," which was towards the end, four or five months down the line.
SP: It was hard to know when it was done for a lot of it. We spent maybe too much time overthinking it. It has turned out well, but it could have turned out quicker.
CS: It seems like it can be hard to know when to cut it, when done is done.
SP: And there were some late additions as well -- songs that weren't even in existence toward the beginning. Then you're starting a new song you didn't even know about. Ultimately, I think it was worth the wait.
CS: There feels like a little bit more of a Philly Soul feel to this record, with more strings and richness. Can you talk about some influences that maybe weren't there on earlier record, stuff you were listening to or playing with in the studio?
SP: I don't know if there were that many different influences necessarily, it's just that our capability to do it became easier.
KS: We've always kind of lived within our limitations and produced music within our limitations. This record felt like, "Hey, we can actually get a string section in here; let's get a big horn section." I'm really, really happy with the brass. But having those little intricate arrangements -- Toby [McLaren, arranger] was really helpful. It felt more like a live record, so that was the idea.
CS: Playing a big midday festival slot like this, where people might know a few of your big songs, how is this different playing a club show?
SP: [To Swaby] It's harder work for you, isn't it? Kelv is the main interactive point.
KS: It's slightly harder, but a festival is a festival. People don't just come for one artist. They might have a few that they like, but they don't just come for those few artists. They want a whole experience.
SP: In America as well I think people are more open to embracing stuff they haven't heard before -- a song they haven't heard or a band in general. American festivals have always been good to us.
KS: Any festival situation that we go into -- I love that; I love when people don't know us. Because then by the end of, it's "Oh, it's those guys," after they've been throwing themselves around for four or five songs.
CS: You have to win them over a little harder than someone who bought a ticket to a Heavy show.
KS: Of course. [To Page] You know what it was like last night in Detroit -- Detroit was just crazy. Dedicated shows are incredible, but it's brilliant to bring your music to people who might not have heard of you. They'll then say, "I saw this incredible band, and I have to get their CD or download it, or whatever."
Click below to see more photos from the Heavy's performance at LouFest.
Related Articles