Music News
Music News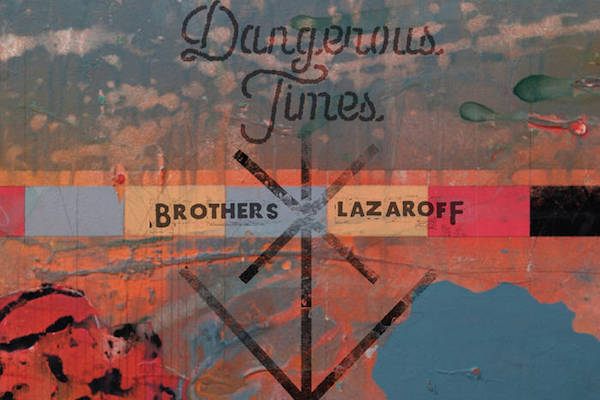 Brothers Lazaroff confront the country's 'Dangerous Times' on new album
By Amy Burger
St. Louis' own Brothers Lazaroff have addressed sociopolitical topics before in their music; but their seventh studio and first self-professed concept album, Dangerous Times, has a more urgent tone, taking a cue from the current state of American politics.
Coming from a decidedly darker place, brothers David and Jeff Lazaroff say Dangerous Times is their "response to the bigotry and fear-mongering" coming out of the 2016 Presidential election -- particularly from the mouth of Republican candidate Donald Trump. They don't go so far as to name names in the album's tunes -- though they don't really have to.
"Listen, there's disappointment on all levels as far as Hillary and past administrations' connections to the military industrial complex. That's all very true and very valid," says guitarist/vocalist Jeff Lazaroff. "She's a centrist, no doubt about it; but she is just along the lines of where change goes gradually, where he is a total call out from strongman authoritarianism, using fear and manipulation and dividing people along those lines as we've seen of color, gender, religion."
The brothers express these feelings most pointedly on the album's title track within its first lyrics, "It's dangerous times that we are living in / I'm crawling out of my skin / fear takes center stage once again / ripping us apart from within." Even the guitar riffs that follow are somewhat foreboding.
Though they didn't set out to make a concept album driven by a central theme, it just developed that way naturally, the brothers say.
"We were together on a family vacation last year and the real thing that hit us was when the Muslim ban was announced," says Jeff. "At first it just started off ridiculous and what we thought was a joke; but then, when it started having fascist overtones is what started us having inspiration into some of the tunes we were messing with lyrically."
That said, it's not all gloom and doom. Dark themes and lyrics are matched with upbeat, even jovial instrumentation, such as on "Don't Look Now," where David's dreamy pedal steel and Nate Carpenter's bouncy piano make a tale of fascism somehow danceable. As the album progresses, the tunes move to a more hopeful place, felt most heartily in the declaration song "Gonna Be Okay," providing some reassurance.
"I don't think it was intentional; but we definitely did discover that in this record the songs did fall into two camps," says Jeff. "You had the songs that were just appalled by the fascism and bigotry and hatred and just saying, 'Don't ignore this, look at exactly what it is for what it is;' and then there's this other camp that was almost like, 'Okay, now look away from it and there's a higher level of consciousness that overcomes that stuff and it's more powerful -- that hopefulness."
In addition to band regulars including Carpenter, drummer Grover Stewart, bassist Teddy Brookins and violinist/sound designer Mark Hochberg, the brothers brought in their cousin and mentor, Stuart Rosenberg, from Chicago to play his Mandocaster electric mandolin on the album, resulting in a rich and layered psychedelic rock sound infused with a rootsy twang. Rosenberg also joined the core band for its recent CD-release show at the Tick Tock Tavern, playing to a full house of fans and friends.
With a steady local show schedule, Brothers Lazaroff has built a strong and loyal fan base over the years, playing regular gigs at various clubs, as well as their popular annual Hanukkah Hullabaloo performances each December. (This year the performance will take place at Joe's Cafe on December 10.) Jeff and David's Jewish heritage figured heavily into processing their feelings about the bigotry displayed in the Trump campaign that inspired some of the album's more pointedly political songs.
"We had family members deeply involved in the World War II effort and we have an uncle who was an orphan out of Poland who was adopted by a great aunt of ours, and then our synagogue has tons of holocaust survivors; so you're constantly hearing that lesson of how a community was scapegoated," says Jeff.
Adds David, "More than anything, no one expected it to happen in Germany. It took 20 years to build that movement, where all of the sudden it was okay to do that and to exterminate people -- and that took just two years. So, the idea that 'this can't happen here,' that's what they thought in Germany."
In the end, they choose to focus on the positive, letting their feelings speak loudest through their music, noting, "We offer up these songs, our attempt to process the insanity and call on love."
No matter what the outcome of this controversial election, Dangerous Times is an album that's certain to remain relevant for years to come -- as both a snapshot of 2016 America and an example of fine musicianship from one of St. Louis' most beloved bands.
Related Articles