Music News
Music News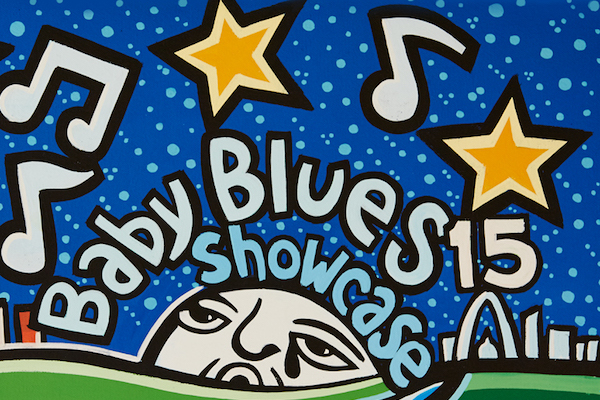 The Baby Blues Showcase: An Interview with Jeremy Segel-Moss
By
KDHX and the St. Louis Blues Society are two of the cosponsors of the 15th annual Baby Blues Showcase that will be held at BB's on November 27. I sat down to talk with its organizer, Jeremy Segel-Moss, a founding member of the Bottoms Up Blues Gang and chairperson of the Blues Society.
Bob Baugh: What was the genesis of the Baby Blues Showcase?
Jeremy Segel-Moss: Fifteen years ago started playing music with the Bottom Up Blues Gang. At the time (2001) all the old blues masters Oliver Sain, Bennie Smith James Crutchfied, Johnnie Johnson, Tommy Bankhead were still thriving at BB's and other clubs -- BB's was our church, our temple. The music was and is remarkable. It was always busy and there was no way a bunch of white kids who were new could get a gig there. My organizing brain said if we could find a night . . . and it turned out the Sunday after Thanksgiving was open. The owners, John May and Mark O'Shaughnessy, were gracious enough to let us try. It worked. We packed the room.
BB: What were your goals with the Showcase?
JSM: Our first goal was to play at BB's and to give other young musicians the same chance. Our rules are that musicians must be under 30 or the band median age under 30 and they had to have a level of professionality. We also want a mix of styles. After five years my own band aged out, but it didn't take away the responsibility to have a moment each year where young blues artists have a place to play.
BB: What are some of your fondest memories of the past 15 years?
JSM: Having Marquise Knox do one of his first big shows when he was 14. Finding Aaron Griffin (son of Larry Griffin, one of St. Louis' pillars of blues) who was just beginning to emerge and having Pokey LaFarge before he broke big. Marquise's first show was one of the most memorable. He pulled a "Big George" (Brock) heading off the stage, he came down the stairs, took off his shirt and danced his way out of the room. It was like "Wow!" And there was the time the U City Jazz band played. There were a lot of kids. They had a chance to set foot in BB's and play. It's a place where you will see pictures of all the greats on the wall and a young musician can see that they are part of the river and can be a part of a community. What is most memorable every year is the crowd. They go crazy. The kids pick up on the magic and it makes the music is better. It just makes me smile.
BB: What are the challenges in organizing the Showcase?
JSM: It's always evolving. Al Holliday and Paul Neihaus age out after this year. Some years are easier and some you need to look farther and be more creative. Sometimes you run into individual musicians with talent but they aren't in a group. Then there is the issue of race. These shows tend to be more white than black. Finding young black musicians like Marquise to carry on the tradition is difficult. Blues are not prevalent in that age group. That becomes a real frustration because blues comes from Black heritage. I believe everyone can have the blues, feel the blues, even play the blues but making sure it does not get whitewashed is really important to me. There are young folk who play blues music who are black but they're not on the scene. They play in church but they are not looking for a music career. We keep working at it. That is a constant for me. I try to do my best every year.
BB: What can you tell us about this year's lineup?
JSM: For the 15th anniversary we want a solid well-rounded show. We will start with the St. Louis School of Rock. Jordan Heimburger is really good with those kids and they bring a rockin' good show. Marquise Knox and Aaron Griffin are two of our mainstays and most talented young musicians. I'm excited they want to continue play the show. We don't pay very well but musicians here are willing give back to the community. We are also excited to have Al Holliday and the East Side Rhythm Band. The Blues Society submitted his record to the International Blues competition for best self-produced album. Nick Pence and Friends represents that Rum Drum Ramblers, Ethan Leinwand, kind of music. He's played in multiple bands with unique sounds. These are musicians that blur the lines between blues, rock, boogie, R&B and soul. This is Paul Neihaus's last year. He plays lots of instruments and is one of the go to side musicians in the industry. He gives back to the community too. His Blue Lotus Studio is the home for the production of the STL Blues Society 16 for 16 compilation which is due out in January.
BB: Any final thoughts?
JSM: I'm happy with annual event and that the city shows up and supports it. You get people like Alonzo Townsend, this year's MC, who is able to vocalize things to his own age group. He's out there with such a message of positivity. He started co-hosting five to six years ago and learned the tools. We also try to pay back with fundraising for "Play It Forward," an organization that networks with all music teachers in the city and provides instruments to students whose families can't afford to buy them. We also collect food to help feed some people. This is one night a year young musicians get to get together and be celebrated by the community. The whole thing goes into making a better St. Louis. Come on down and join us on November 27.
The 15th annual Baby Blues Showcase is scheduled for Sunday November 27 from 5-11 p.m. at BB's Jazz, Blues and Soup at 700 South Broadway. Tickets are $15 or $10 + five cans of food.
Related Articles