Music News
Music News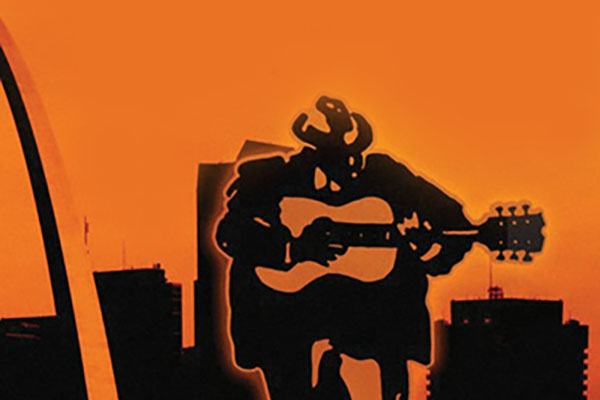 '15 in 15' at the top of the charts for KDHX in 2016
By Bob Baugh
In 2016, the St. Louis Blues Society's release 15 in 15 has been spun by KDHX DJs more than any other new release. The compilation album of local artists performing original material sits at the intersection of the community station dedicated to independent media and the community organization dedicated to local blues.
KDHX Music Director Nick Acquisto explained the meaningfulness of the position: "Local compilations have been on KDHX's year-end top spins list and local spins lists in the past. 15 in 15 is the first compilation to be number one, not to mention by such a large margin. It's a tremendous indicator of how many great blues artists are making notable music in St. Louis right now and how much KDHX supports and champions the blues on this station. The St. Louis Blues Society compilations are a perfect starting point for finding the best of it made right now."
Hearing the news about the KDHX's Top Spins of 2016 list, the two individuals most responsible for 15 in 15 reacted in unison: "That's awesome." Jeremy Segel-Moss, the Chair of the St. Louis Blues Society also said, "I think it's a great accolade to the continuum and depth of talent in this town. It's great to hear local blues music on a world class community station." Paul Niehaus IV, the producer and STLBS board member, echoed those sentiments: "I am happy and pleased about the award. It shows that people are enjoying it. The album is a sign of how deep and creative the well of talent is here."
15 in 15 set out to present each local artist naturally and in their best light. The enthusiastic response by the KDHX DJs suggests the Blues Society hit the mark. A group of DJs interviewed for this article often praised the Blues Society for their progress and effectiveness in recent years as a result of "the new generation bringing new energy" to the organization, especially through the efforts of Segel-Moss and Niehaus, both talented and respected musicians in their own right. To borrow from one interviewee, Niehaus' Blue Lotus Studio, "brought to life the artists' dimensions with production and engineering of such high quality that it compares with the very best." In the words of another DJ, "The STLBS compilation CDs are all the evidence anyone would need to prove the health and vitality of the organization."
The success confirmed by the release's position at the top of KDHX's Top Album Spins of 2016 (and the station's Top Local Spins) couldn't be better timed because there's more to come. This January the Blues Society will release 16 in 16, a completely new collection of acts and original material. If these quotations from KDHX DJs about 15 in 15 are any indication, the new compilation will be another invaluable document of the city's vibrant blues scene.
Art Dwyer: The move from 14 to 15 gave us all original music by local artists, and it represents the best of our city. I play them all because they are all good. I'm an old timer and it's great to hear new material from other veterans like "Let the Demons Out" from Renee Smith and "Ain't That Lovin' You" from Roland Johnson. They are as good as anyone anywhere. Then there's Miss Jubilee and Rum Drum Ramblers . . . all different but all from the same musical tree.
East Side Slim: I like two things: it had new self-written songs in different genres from fun to socially relevant and everything in between, and the material was very strong. I loved "Tampa Style" by Ron Edwards and Ethan Leinwand. It was done in the older style so convincingly and respectfully. I played "Bottlesnake Blues" many times. Renee Smith's "Let the Demons Out" is fresh material that shows what a powerhouse vocalist she is. "Reap what You Sow" by the Kingdom Brothers and "Pike's Peak" by The St. Louis Social Club are among my favorites.
Hound Dog Brown (STLBS board member): The CD is jam-packed with A grade material by contemporary local blues musicians and that makes it difficult to pick out favorites. For me, blues does not have to be too fancy or prettified. Give me some blazing bottleneck slide on a twangy resonator guitar, and a well-played piano made of wood, and I'm as happy as a clam in the sand. Two tracks on this CD which fit this description are "Bottlesnake Blues" by the duo of Nick Pence and Ethan Leinwand and "To Get Along" by the Rum Drum Ramblers.
Doug McKay: I liked 14 in 14 but 15 in 15 is much better with its original material. It exposed some artists and is a fabulous resource. I particularly liked the cuts by Marquise Knox, Aaron Griffin, Rum Drum Ramblers and Big Mike Aguirre. This gave us the opportunity to play Big Mike's his music. This was my first exposure to The Green McDonough Band and it fired me up. The Kingdom Brothers are here and they put out one of the very best albums of the year. Letter to Memphis's "Oleatha Shuffle" isn't my style but I really like it.
Tom 'Papa' Ray: The CD has sympathetic production by Paul Niehaus. He understands the implements of sound; he's a musician himself. All the performers I know have positive things to say about their experience with Paul and Blue Lotus. Every cut has merit. Marquise Knox, Renee Smith, Roland Johnson, Green McDonough and Rum Drum Ramblers all have particularly strong performances. The cuts are all different, not everyone has the same sonic profile. For example, Roland Johnson's cut sounds like a 1960s Muscle Shoals production. Not a bad thing at all.
Sunny Boy Mason: The CD is very good because all of the songs are good. The sound quality of the production is excellent. Paul Niehaus did a great job on this. While it's hard to pick favorites when the entire album is so good, if I had to pick three favorites they would be the songs by the Bottlesnakes, Rum Drum Ramblers and Miss Jubilee.
Ron Edwards (STLBS founder and chair emeritus): The purpose of the STLBS is to support and promote STL Blues music and this CD is perfectly aligned with that goal. It brought together the musical community in a cross-generational way. My song "Tampa Style" with Ethan Leinwand ties back to former generations of STL piano guitar blues duets. With its broad variety of talent and styles the CD offered something for every DJ to play. I particularly liked the Bottlesnakes really tight old-style duet, the Rum Drum Ramblers infectious number and the Green McDonough Band's "Bone to Pick." But I also liked the different styles of Roland Johnson, Marquise Knox, Renee Smith, Big Mike Aguirre and Miss Jubilee.
Related Articles