Music News
Music News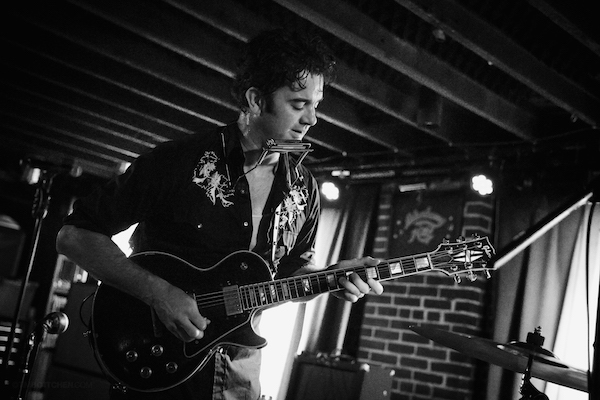 A Special Love of Collaboration: An Interview with G. Love
By
The third annual Art of Live Festival is in full swing this weekend -- featuring four nights of music spread across three local venues, combining local bands and artists with national and international touring acts. Participating venues include Old Rock House, Off Broadway and the Ready Room.
"Live concerts are unique in that there are no passive participants," says organizer Tim Weber, managing partner of the Old Rock House and ORH Concerts. "Fans, promoters, bands, security -- we actively and collectively create the experience, the art, together. That is what we are celebrating with the Art of Live Festival."
One of the last Art of Live performances to take place is the return of G. Love & Special Sauce, joined by Boston-based funk pop band Ripe, at The Ready Room on Sunday evening. A veteran touring act for more than 20 years now, G. Love & Special Sauce released their eighth studio album, Love Saves the Day in 2015, featuring the group's original lineup of G. Love (a.k.a. Garrett Dutton), upright bassist "Jimi Jazz" Prescott and drummer Jeffrey "The Houseman" Clemens playing the signature "hip-hop blues" they originated. The album featured a star-studded lineup of guest artists including Lucinda Williams, Citizen Cope, David Hildago of Los Lobos, Ozomatli, DJ Logic, Money Mark, Zach Gill and Adam Topol.
G. Love took a break from his tour stop in Minneapolis to give a quick phone interview prior to Sunday's show in St. Louis.
Amy: Love Saves the Day came out in 2015. What have you been working on since then and what are you working on now?
G. Love: With G. Love & Special Sauce we put out a lot of music in the last few years -- we put out Sugar and two EPs and then Love Saves the Day, so we're taking a minute before we put out another album; but I did work on a project last fall called Jamtown, which is a collaboration with Cisco Adler and Donovan Frankenreiter, and that came out really well so we're really excited about that. Hopefully that's going to come out in the Spring.
I also did a recording session with blues artists and my old label mate Keb' Mo' and we kind of did a little trial session to see how it would be to work together. We both enjoyed it, so I think in the spring we'll continue on that. I'd like to do a blues record of new original material. I learned a lot from recording with Keb' and our stories sort of intertwined because we both got signed the same year to the same label -- OK Records in '93, when I was 20 and he was my age now, which is 44. It was cool to link up after all those years and get in the studio together.
Right now, our band is on the road working and playing our music and that's kind of always been our life's work and mission, so we'll continue to tour. This tour for us is great for the fact that we don't have a record out. These are always fun years because there's no rules, we can play whatever we want with no pressure on ourselves, so we plan to dig a little deeper into the back catalog on some songs we haven't hit in a couple years and also play all the hits and showcase a lot of the hip-hop blues original sound. It's just about throwing a party every night -- no rules, no holds barred.
Amy: You've always been a big collaborator and Love Saves the Day has a lot of amazing guest collaborations on it. When you do that, are you writing the songs with certain people in mind to record with, or is it happen more organically?
G. Love: Most of the songs you end up writing with the people you collaborate with. For instance, on Love Saves the Day, Citizen Cope and I wrote a tune and we felt really good about it so we said, "Hey, let's cut it." A lot of times it happens like that where you're writing specifically with the person you're singing it with.
There are some other times when you'll have a bunch of tunes and think, "Oh, this one would be good if so-and-so comes in." So also on Love Saves the Day, I knew Ozomatli was coming and so I looked at the tunes and thought, "Oh, these would be good with the horns and the vibe they bring." The same with David Hidalgo from Los Lobos; we know what he's going to bring to the table -- he's going to bring this amazing guitar work -- so we want to present him with a tune he can really shine on. If you're going to have this great talent join you in studio, it's in everyone's best interest to figure out a way to make them shine.
Amy: Who have been some of your more memorable or favorite collaborators over the years?
G. Love: I did have an early collaborator with my first rapping partner, whose name was Jasper. We wrote a lot together and really influenced each other's music. He was my first great collaborator.
Then further on down the line in my career, my most famous one with Jack Johnson which kind of helped launch his career and reinvigorate my career and that collaboration continues. It's been almost 20 years that I've known Jack, and I just linked up with him on the North Shore of Hawaii where I finished my little acoustic tour last week. I had three shows out there. He ended up coming and playing half a set on all three shows and we had a blast. I said at the show that the first day we met, we went surfing and then played music and that's the same thing we did the last day we hung out together.
Then the most recent one, as I mentioned, is this Jamtown thing. I met Donovan through Jack and we've crossed paths a lot over the years and have been on each other's records and he's just great. I love him as a human and a guitar player and singer and writer. He and I had been talking about doing a "barbecue record" -- acoustic versions of our old tunes and a couple covers and originals. So I reached out to Cisco Adler, who I've worked with over the years as a writing partner and said, "Hey, would you produce Donovan and I?" So we went in and ended up writing ten of the greatest tunes I think I've ever been on in my whole career and it ended up being more of a three-man collaboration. It just kind of happened in this way, and I feel like we really have a hit record. I feel like this could be a very exciting year for us with Jamtown, so that's the collaboration I'm most excited about right now.
Amy: You've been playing your signature hip-hop blues for more than 20 years now. How have the drastic industry and technology changes over the years affected how you record and put out music?
G. Love: I think the biggest thing is that technology has changed the way that you make money through your recordings, and because the fact that you don't sell a lot of records, therefore the record label doesn't make a lot of money. There are no budgets to make records now -- there are not a lot of big record deals to get. Like I had a good record deal in the early '90s -- but you used to get like $350,000 to make a record and they'd want you to spend it all and take as long as you could to spend all that money. They wanted to have the best record. So you'd spend a lot of money and a lot of time making a record.
These days, you maybe have 10% of that budget to make a record. We make our records for a tenth of the cost in about a tenth of the time. Instead of going in and tripping on mushrooms for a week trying to capture some magical essence, I go in prepared to bring the magical essence and kick some fucking ass and do it in a week. And I feel like we make such better records now in so much less time for so much cheaper.
Recording has really been a joy because the limitations technology has brought have made us be better -- maybe not richer, but better. For a lot of the jam bands, and us included, most of them never sold a lot of records but made their living on the road and that hasn't changed. That's the beautiful thing about having leaned on your performance craft for a lot of years. The live music culture is by the people for the people and we the people want to keep jamming!
Amy: What lessons have you learned in so many years touring and recording that you would impart to your younger self just starting out?
G. Love: I think to take your time. There's always this urgency -- everything is hurry up, hurry up. What you realize after you do this for a few years is that you're basically just going around in circles. Music is not a sprint; it's a marathon. Give yourself time. You have to last a long time.
The other thing is that the business side of it is a constant learning curve because it's a constantly changing environment so you constantly need to be adjusting with it. I made so many mistakes and had so many missed opportunities. I did a lot of things right but also did a lot of stupid things. There are a lot of things you learn and a lot of things you look back on and say "should have, could have, would have," but the fact is I'm still here and my career is still more vibrant than ever. People come up to us every day and say, "I've been to ten shows" or "I've been to 50 shows," and you're just like, damn, thank you.
G. Love & Special Sauce with Ripe play the Ready Room on Sunday, January 15 at 7 p.m.
Related Articles