Music News
Music News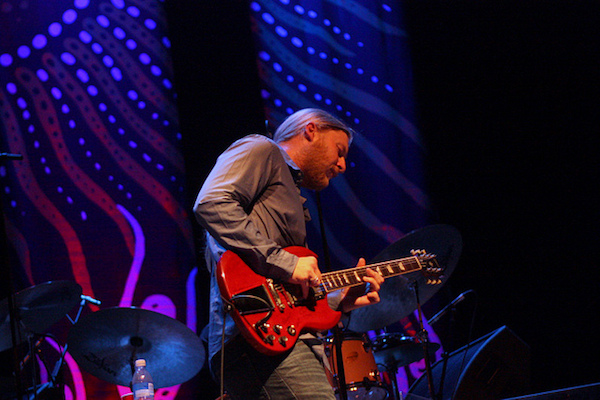 For Tedeschi Trucks Band, Music is a Family Affair: An Interview with Derek Trucks
By Amy Burger
The word "prodigy" may be overused, but it is absolutely warranted when referring to blues-rock guitarist Derek Trucks. How else would you describe a musician who was performing alongside legends like Buddy Guy in his early teens and playing in one of the greatest rock bands of all time by age 20? 
After a decade of touring and recording with the Allman Brothers Band (in which his uncle, Butch Trucks, was drummer and a founding member) and solo success with his Grammy-winning Derek Trucks Band, Trucks joined forces with his wife, guitarist/singer Susan Tedeschi, to form the Tedeschi Trucks Band in 2010. The 12-piece band has been a success story since day one, with its debut album, Revelator, winning a Grammy for Best Blues Album. TTB followed up with two more critically acclaimed studio albums, Made Up Mind in 2013, and last year's release, Let Me Get By.
TTB returns to the Peabody Opera House on Wednesday night. Trucks took a break on a tour date in Chicago for a quick phone chat from his hotel room.  
Amy:  TTB has put out three quite excellent albums. Are you guys working on more new music or taking a little break to tour and enjoy the ride?
Derek: We've been staying pretty busy. We recorded one of the last tours to make a live record so we've spent the last month or so mixing and working on that and we also filmed a few of the shows for a bit of a documentary of the band. We just finished that along with the live record that will probably be coming out this spring. Then we've got a few days to get in the studio to start writing and thinking about the next studio record, so we're just getting the wheels turning on that. With a band this big, you just kind of have to keep moving, so that's what we do. 
I'm really excited about the live album. We captured a really good show. I was thinking it would be more of a compilation of the West Coast tour; but one of the nights in Oakland was so good on its own that just the continuity of one show felt better than piecing it together. 
Amy: Were there any special guests or sit-ins on that one?
Derek: Our friend Alum Khan, who is an Indian classical musician who plays the sarode. His father, Ali Akbar Khan, was one of the great musicians of the last 100 years. He showed up and played some really beautiful stuff. 
Amy: You and Susan both had successful individual careers before TTB. Did you know right away when you got together that you'd eventually form a band, or when did you decide to join forces full time?
Derek: I think we had the notion, but she was so deep into her thing at the time and I was as well. The timing wasn't right and I think we wanted to take our time getting into something like that and make sure we knew each other well enough. We were both more comfortable getting married and having kids than starting a band together. [Laughs] It's a big commitment, so we waited about 10 years. 
Amy: Are your kids musically inclined? I would imagine there's music happening all the time in your house. 
Derek: They listen a lot and they have the love for it but they don't really play yet. They're into their own things. My son is a baseball player and my daughter is into everything under the sun, so they're very occupied. 
Amy: What was the first real paying gig you played and how old were you?
Derek: I was probably nine or ten years old. I remember playing the Jazz and Blues Festival up in Toronto, Canada, originally sitting in with local bands and then touring with this group that the lead singer was from Oklahoma. His name was Ace Moreland and he was an amazing singer and guitar player and he would have me up for about three or four tunes every night and I kind of traveled with him for a while. Feels like another lifetime thinking back to it, but it was fun.
Amy: What was it like literally growing up around the Allman Brothers Band and performing with them at such a young age?
Derek: It was intense, you know. Their music was the first music I really listened to and dove into and to have a chance to get on stage and play that stuff at that age was a unique feeling, no doubt about it. 
Amy: Duane Allman passed away eight years before you were born. While you never got to actually know him, how did his playing inspire and influence you?
Derek: It was probably even more his sound than the band itself that was intriguing to me as a kid and still is in some ways, as well as his persona and everything I had heard about him and the stories you'd hear about the person he was. It was a huge influence and inspiration. 
Amy: Was it hard to close that chapter of your life when the band called it quits?
Derek: No, I was ready to move on. It was an incredible honor to be part of and some great music was made, but I was ready to put it in the rear view and move on to the next thing and really focus on building something from the ground up. I thought it went out in a good way. The last show we did was leaving on the highest note, so no part of me wants to revisit that. I'm probably alone in that sentiment. They'll probably reform in some capacity at some point -- who knows. I've run into almost all of them since then. I just played with Oteil the other night and I've played with Warren and Gregg since then -- I think everyone but my uncle, strangely. 
Amy: You've also had the chance to play with your brother [Widespread Panic drummer Duane Trucks] over the past year or so. 
Derek: Oh, yeah, it's always good to see little brother, and also Jimmy Herring. I've known him since I was about 12 years old, so he's felt like an older sibling or an uncle in some ways. That band is more of a family affair than ever. 
Amy: You and Susan got to perform at The White House for President Obama at the "Red White and Blues" celebration in 2012, where the President famously sang a few bars of "Sweet Home Chicago." What was that experience like?
Derek: Yeah, that was a surreal few days. We played at the first inauguration at the Southern Ball, and then we got invited to play with B.B. King and Buddy Guy at The White House for that blues show and those are moments you don't forget. Just to see B.B. in that room and knowing just how unique that was -- thinking about when he was born and how different the world was that he could sit in there and the day would be about him. That was the thing I remember the most about it. That and Susan yelling for the President to sing, "Sing, Mr. President!" and he grabbed the mic. That was a pretty damn good moment, too. I don't think there will be a whole lot of concerts like that there in the next few years. 
Tedeschi Trucks Band performs at the Peabody Opera House on Wednesday, January 25 at 7:30 p.m.  
Related Articles