Music News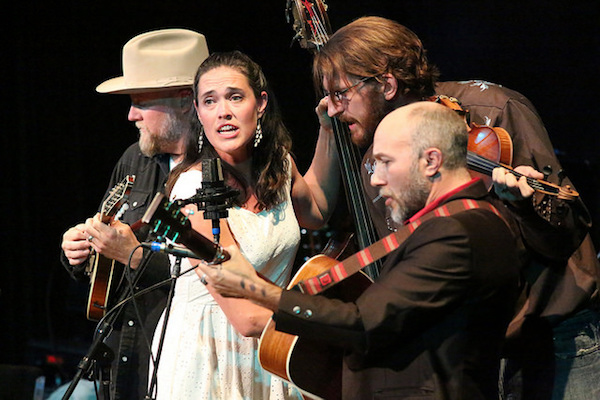 A Single Mic and Other Tales of the Road: An Interview with Mike Finders
Look at old photos of the Foggy Mountain Boys -- aka Lester Flatt and Earl Scruggs -- and you'll notice they used a single microphone on stage. You might assume Flatt and Scruggs were limited by the sound technology available in the 1950s. Until you notice that contemporary artists like the Foghorn Stringband and Del McCoury use the same single mic approach. So does the Colorado-based FY5, formerly Finnders & Youngberg, and it works out just fine for them. I spoke with FY5's Mike Finders recently about their upcoming April 7 show at Off Broadway.
Bill Motchan: One of the distinctive things about FY5 on stage is the single mic. How did you come up with that style?
Mike Finders: The way we mic ourselves up, the way we present ourselves sonically and visually, we always try to keep a balance, and one of those things is gathering around a single mic. It's a bluegrass tradition that goes back to the earliest days of Flatt and Scruggs and Bill Monroe. They would just lean into one mic.
In bluegrass music you're all focused on one thing at one time, because everybody has a shot of going up to the mic and being front and center, and the rest of us are playing a supportive role. There is something that is powerful about that one mic performance style that goes back as far as 1940.
The first time I saw the Del McCoury band, one of the pre-eminent bluegrass bands, they were going back to the single mic approach, and I couldn't believe it. It was in a theatre in Chicago, and I remember I walked back to the sound guy and verified it, I said, "Are you kidding! You have a 50-channel mixing board and you're only using one channel." Finders said he wanted to channel other classic bluegrass styles too because he and his bandmates were looking for a purity and clearness where the music looks and sounds like they are focused on one thing. 
Bill: One of the things that come up often in reviews of FY5 is how well the band harmonizes. How does a band achieve that balance?
Mike: We're really proud of our band, and one of the things that we're most proud of is our longevity. We're in our eighth year together, the same five people. Five people focused on one goal for any length of time is always an achievement. And for us to be on this mission, the chemistry, our musical sensibilities, our varying degrees of risk-taking with our playing, we were all kind of aligned and we noticed that right away before we started thinking about the music that we were going to make.
We all had similar temperaments, similar visions of what we wanted to do, and before we even started making music, we enjoying being with each other, and that's one of the things when you're in a band, different than a local band, when you're trying to establish pockets of people you play for and build a fan base, you end up spending time in the van and having meals together than you do playing, so if you don't like each other, the music's hardly worth it.
Bill: What are some of the ways the band relaxes on the road or before gigs?
Mike: Hacky sack is one of the things we always do when we get out of the car (to stretch our legs) and Ryan Drickey and Rich Zimmerman -- our fiddle and mandolin players -- they both juggle. We're trying to figure out some kind of juggling routine they could do on the stage. We also all love good coffee, so wherever we're traveling, we try to find the best coffee, we all value good food, so whatever town we go through, we just know there's going be some kind of fast food option, but we try to find something organic or non-toxic, those are the lifestyle things we all have in common.
Bill: The name FY5 is a recent change from your original band name, Finders & Youngberg. Why did you make the change?
Mike: Rich and Ryan, the two guys that aren't named Finders or Youngberg, they have been just as integral to the band as the other members. "Finders and Youngberg" sounds like an accounting firm or something. Sometimes a band gets stuck with a name, and changing it was hard, too, because there's websites and search engines, and stuff. We wish it would have been FY5 from the beginning, But, we're going to stick with that for now. It looks better on a T-shirt, too.
Bill: Eat The Moon is FY5's most recent album and it's getting excellent reviews. No Depression called it "wholesome, traditional and brimming with ideas plucked from years gone by." What was the inspiration for the title song?
Mike: I do most of the writing. "She wants to eat the moon," this was about a girl I know and she said that to me while we were on a walk, and it really was similar to a lot of the other things about her that I observed while we were getting to know each other. Her drive in life was to experience things in a deeply tangible way, she stops and smells the roses, and if we're on a walk and we see wild grapes she'll want to stop and eat them, she wants to put her feet in the river, and she has this tangible thing, so the song was about having a such a lust for life that you would not only experience things but bring them in, so I just played with that image, and tied it back.
Bill: When FY5 played at the Sheldon in September 2015, you also led workshops at the KDHX Folk School. Do you enjoy getting to work with adults who are learning roots and bluegrass music in that type of setting?
Mike: Yes, Ryan Spearman asked us if we would give some lessons, and three of us are trained teachers. Bluegrass is easy music to teach because it's got so many rules. We teach at least two bluegrass camps a year mostly to adults. A lot of the people stopped singing around middle school because they're voices started to change and crack, and a lot of guys who feel like 'I never should have given it up, and I'd like an outlet,' so one of the things I love to do is work with adults and almost grant them permission to sing and play, and tell them, "Yes, you can be an artist!"
Bill: You said Finders & Youngberg sounded like an accounting firm. I don't think you would have been an accountant if you hadn't started a band. What might you have been?
Mike: A teacher. I had a teaching degree. It's telling stories, getting people together. When I write a song, I hope I'm writing in it in such a way that it moves people. I imagine I would be doing something involved with telling stories.
Note: FY5 is based in Ft. Collins, Colorado. The band members are Rich Zimmerman on mandolin, Ryan Drickey on fiddle, Erin Youngberg on stand-up bass, Aaron Youngberg on banjo and pedal steel. Mike Finders, the bandleader and guitarist, is an accomplished storyteller. He is a two-time winner of the Merlefest Chris Austin Songwriting Contest.
 Click the image below to see all of Bill Motchan's photos from FY5's performance at Off Broadway, April 7, 2017.
Related Articles