Music News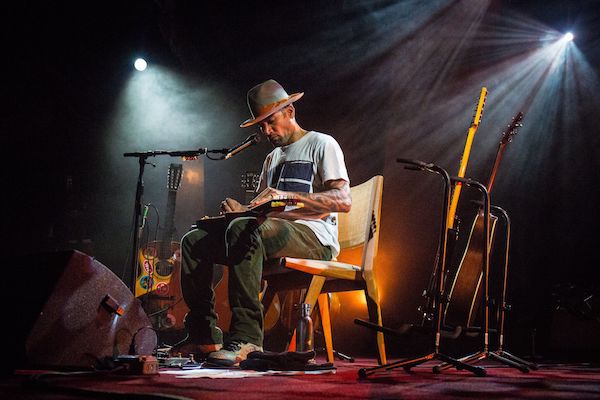 Reunited with The Innocent Criminals, Ben Harper talks protest music, long overdue collaborations and a life of giving
"It had been a little bit too long," says three-time Grammy Award winning singer, songwriter and guitarist Ben Harper about reuniting with his long-time band, The Innocent Criminals. After six years apart, the backing group, which includes bassist Juan Nelson, percussionist Leon Mobley, drummer Oliver Charles, lead guitarist Jason Mozersky and keyboardist/multi-instrumentalist Jason Yates, began rehearsing together again in 2015 to jump back in the studio. They released a new album, Call it What it Is, in 2016 and are currently touring in support, making a stop at The Pageant on September 11.
"Everybody was ready and had a lot to bring to the table. We personally had lived a lot of lives in the time that we stopped touring together," says Harper. "We never stopped being friends, but stopping touring. So with us getting back together, there was a lot to catch up on; but any grievances had already been aired at that point, which was nice. We were able to start again with a clear path."
Call it What it Is sounds like a classic Ben Harper and the Innocent Criminals record, a blending of styles from reggae and roots rock to folk and blues, anchored by the sound of Harper's ever-soulful voice and signature Weissenborn lap slide guitar. Harper has never shied away from addressing social issues like racism, classism and social justice in his music, and this album no exception, particularly the title track, which mentions the shootings of Trayvon Martin, Ezell Ford and Michael Brown by name, demanding, "Call it what it is -- murder."
About a year before recording the album, Harper released a video of an acoustic version of the song on YouTube and was taken aback by the response.
"Some people had their arms wide open for that song and some people ducked. It definitely taught me a lot about not only just the division in America, but the division within the people who listened to my own music," he says. 
"It being the record title has led the charge for that record. It was a title that certain people had second-guessed as so forward and demanding and speaking in absolutes in its own way; and for me, that's what punk rock is about. I'm not punk rock, but punk soul, punk folk, roots rock, protest music -- protest music that not only is just a song, but that makes you actually want to protest. It's only real protest music if it makes you want to protest. I just had to lead with it."
The heaviness of that opener is balanced with lighter tunes like "Shine," "Pink Balloon," and nostalgic "When Sex Was Dirty." Beautifully simple ballad "All That Has Grown" is just Harper's voice and lap slide without the backing of the band. 
Harper began his guitar career in his early teens. It was in his blood, so to speak. For more than 50 years, his family has owned the Folk Music Center Museum & Store in Claremont, Calif., where he grew up receiving a first-hand music education from his grandparents, parents and every musician who walked through the door. He knew early on that slide guitar, particularly the rare antique Weissenborn lap slides, would be his instrument of choice.
"I discovered the Weissenborns early. It was the sound of slide guitar period that spoke to me, and when I started reaching towards it to play at an early age, I felt like I could get around better on the slide guitar when it was on my lap," he says. "Because it was such an eccentric environment I grew up in, lap steel guitar and dulcimers and autoharps and guitars and instruments that were played on the lap were just normal to me."
"I'd see every instrumentalist that played a unique instrument come through my family's store. I'd see them playing lap steel guitar and regular bottleneck slide, and I'd hear flat pickers and finger pickers and shredders come in, so I really did have a lot to gravitate toward," says Harper. "But I definitely was pulled toward lap guitar and I played fretless guitar before I played guitar with frets. I didn't even care that guitars had frets until I was 18 or 19 years old." 
Raised in a family of musicians, it was the realization of a lifelong dream when Harper finally collaborated with his mother, songwriter Ellen Harper, to release an album of folk tunes in 2014 appropriately titled Childhood Home. Though she put her professional music career on hold to raise Ben and his two brothers, he says she continued to put pen to paper and keep writing songs. A collaboration seemed inevitable, but they never could find the time. 
"It was something she and I always talked about. It would be part of every conversation at every family holiday," he says. "We finally both had the time and we had the material. It surprised me how challenging it was to select the right material to do a duet record with your mom. You can't just do any old love songs, so it forced us to pick our material very carefully, which I'm proud to say that we did. It was a healing process in the only way that music is and I think you can hear it woven into the words and into the textures in that record." 
The year prior, Harper saw another dream collaboration finally come to fruition when he released the album Get Up! with one of his musical heroes, Charlie Musselwhite, which went on to win the Grammy for Best Blues Album in 2014. The effort was also a long time coming, he says. 
"I've been listening to Charlie all my life. Charlie Musselwhite is one of the pillars of the Blues and my family had not only a record collection, but a music archive, so of course Charlie was deeply woven into that. I first recorded with Charlie and John Lee Hooker on what was to be John Lee's last studio record, and from that, Charlie and I have just been lifelong friends."
The pair recently completed a follow-up album called "No Mercy in This Land" that they plan to release in March or April of next year. 
Outside of music, Harper has long been involved in various causes, backing up the social messages in his music with grassroots activism. Along with his wife, his most recent project was setting up the New Light Boys' Home in Khela-Ghar, India to provide the sons of women in prostitution the opportunity to grow up in a safe and secure environment and realize their full potential. The Harpers worked with CNN Hero Urmi Basu to creating the new home.
"She has had a girls' home for many years that is an institution in Calcutta. My wife and I came to the conclusion that we also needed to address the boys and give a place for the boys there. And so we took to building a boys' home there this year with Urmi," Harper says. 
"That is what I've been putting the majority of my focus into lately; but I'm always looking for a cause, because to me that is the purpose and the point of it all -- if you can reach outside your own life and at least even hold the door for somebody. It's all about holding the door." 
Ben Harper and The Innocent Criminals will appear with Hey King at The Pageant on Monday, September 11 at 8 p.m. 
Related Articles