Music News
Music News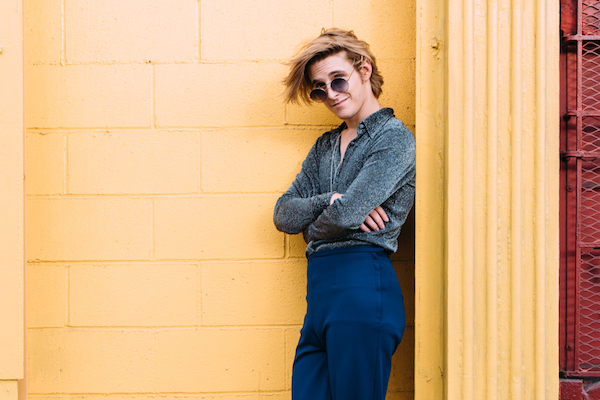 Special Brew: Shaun Fleming of Diane Coffee talks about bringing his performance persona to life
By
Shaun Fleming, more widely known by his performing moniker, Diane Coffee, is assuredly one of the most eclectic and original rising acts today. With a style that's equal parts throwback soul, 70s rock and modern indie pop, Diane Coffee relies on Fleming's solid songwriting combined with his vocal precision and a touch of androgynous glam. 
Diane Coffee will perform at the Ready Room on Saturday as part of this year's Art of Live Festival. I caught up with Fleming by phone from his home in Bloomington, Indiana to talk about his musical journey and what's up next for him. 
The 30-year-old singer, songwriter, guitarist and former Foxygen touring drummer grew up in a suburb of L.A. and had a surprising early career as a voice actor in Disney shows such as Kim Possible  and Lilo & Stitch: The Series. Coupled with middle school and high school stints in drama club and an improv comedy team, he says he always knew he wanted to be a performer, one way or another. 

"I fell in love with music in high school and that was partly to do with my high school music teacher, John Mosley. He was fantastic," says Fleming. "For awhile I almost went toward a career as a classical musician, opera based. That's what he wanted me to do. He was very disappointed when I started getting into rock and roll. I formed a band in high school, and once we started playing our first shows, I knew then and there that's exactly what I wanted to do for the rest of my life." 
Fleming met and befriended Jonathan Rado and Sam France of Foxygen in middle school, where they were already playing together. 
"We had an improv comedy team that I was on and they would come to those shows and they knew people in the group as well, so their little records they would put out were circulating in the comedy crowd in the drama department. So, I got to know them through the drama club and improv comedy team and we started playing and recording together."
Fleming would later partner with the duo as their touring drummer, learning all he could about touring in what would basically be his boot camp.  
"I learned everything. I hadn't done any serious touring before Foxygen, so I learned the things to do, the things not to do," he says. "It was a little different because I was drumming and wasn't managing a career so I could relax and kind of let them take the helm and come along for the ride. That's where I learned the ropes."
Even since high school, Fleming had been writing songs of his own. While touring with Foxygen, he moved to New York City to live with Rado and be close to the action. In between tours, Rado and his wife left for California and Fleming found himself alone in their apartment for a couple weeks. 
"I was just writing as usual and those demos that I wrote became the first record. I really didn't know I was writing a record, which is why it was recorded in the way it was -- on the fly with an iPhone and pots and pans and whatever I could get my hands on. I got my experimental record out of the way on accident," he laughs. "I showed the guys when we all got back together on tour and they liked it. We stopped in Bloomington, Indiana and I showed some people I knew at Secretly Canadian [record label] that I'd befriended and they really liked it and suggested I try to look for a place to put it out. Brian at Western Vinyl was really into the record and decided to put it out."
Fleming says he was racking his brain trying to decide whether to release the album as Shaun Fleming or call it something else, and ultimately decided to give it another name to represent what he calls the essence of the performer.
"I happened to be listening to Diana Ross at the time, so Diane comes from that. The Coffee part comes from this singer-songwriter I liked called Nathan Pelkey, and he had a song called 'Mr. Coffee' that I was very much into. I just sort of smashed those two together. I didn't want to think too hard on a band name."
When he's onstage, Fleming's inner performer fully comes out in the Diane Coffee persona, complete with costumes, makeup and theatrics. He works closely with his artist fiancé, Melinda, to create the performances that live audiences will see. 
"She'll design costumes, she'll help me come up with concepts for each tour and help me build what they see onstage," says Fleming. "I really love a show rather than just seeing a concert. If I want to just listen to the music, I can put on a record and stay home. I want to give people what I would like to see."
His early background in acting and improv undoubtedly plays into the theatrical aspect of Diane Coffee. 
"It allows me to be completely relaxed on stage so I can just have fun. I think the Diane Coffee performer comes out when I'm onstage and just completely takes over," he says. "Sometimes I don't know completely what I'm doing or saying on stage. Sometimes I'll have little rants that are designed around the show I'm doing."
While he's often asked about and compared to another androgynous rocker, David Bowie, Fleming didn't really grow up with his music, though he believes they are inspired by the same sources. 
"He made it acceptable and not as shocking to allow full expression on stage. There were other people that were paving the way for him as well. He was inspired by Japanese theatre and other theatrical performances and they paved the way for him to do what he wanted to do," says Fleming. "I know there's a strong comparison to be made with my theatricality, but it's strange to me, being influenced by the same thing that he was influenced by."

Listening to both of the full-length Diane Coffee albums and a recently released, two-song EP, Peel, it's clear that his influences come from all over the place. 
"Both records are super eclectic and I think it's just because I get bored easily," Fleming says. 
He counts among his inspirations Diana Ross, of course, and other Motown stars, as well as Sufjan Stevens and St. Vincent. "But also folk, like David Wilcox and dad rock like Marc Cohn. I grew up listening to Marc Cohn 'Walking in Memphis,'" he says.  
Fleming is currently at work on the next Diane Coffee album, and released the Peel EP as a way to get something out sooner and share two songs he says didn't necessarily fit in to the new album. 
"Those are a few of the first songs I wrote for the full-length album. As I continued to write, the direction of the new album changed dramatically and these new songs didn't seem to fit anymore; so then I had to go back and rethink how I wanted to do the record," he says. "They're just similar in a way to the last record. This next one is going to be I think pretty different."
In any case, he promises to share a few of the ones he's working on in his live show on Saturday. 
"I'll be doing a few new tracks and I love doing it, too, because everything is still kind of in demo mode so I'm sure these songs are going to sound so different once I lay them down finally for the master. It's pretty cool to play them in the raw form."
Catch Diane Coffee with Ratboys and The Potomac Accord as part of the Art of Live Festival at The Ready Room, Saturday, January 20 at 7 p.m.  
Related Articles